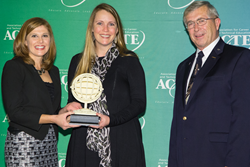 Sponsoring these awards is our way of encouraging educators throughout the U.S. that their work truly matters to the future of our economy.
Oklahoma City, OK (PRWEB) December 11, 2015
Express Employment Professionals recently presented more than $10,000 for the Association for Career and Technical Education (ACTE) Excellence Awards, honoring teachers who demonstrate innovation in the classroom, commitment to their students and dedication to the improvement of career technical education in their institutions and communities.
Winning $3,000 as Teacher of the Year is Cindy Quinlan. She is a work‐based learning coordinator at Brookwood High School in Snellville, Georgia. She was one of five regional finalists to vie for teacher of the year honors. As a regional finalist she received an additional $1,500.
Other regional finalists for the ACTE Excellence Awards include Janet Harris, Edmond, Oklahoma; Alexander Bell, Jamaica, New York; Louis Beck, La Porte City, Iowa, and Michelle Aldrich, Cheyenne, Wyoming. All regional finalists won $1,500 each from Express Employment Professionals.
Quinlan was announced as the national winner during the ACTE's CareerTech VISION 2015 in New Orleans. Quinlan pioneered a lean start‐up approach in her entrepreneurship classroom where her students must develop a business that can be started within a week and with minimal costs. Twelve viable and profitable student businesses have been launched out of her classroom over the past two years. Through an entrepreneurship alliance with the city of Snellville, each of these student businesses is provided local entrepreneur mentorship, a specially issued business license and a chance to earn investment capital by pitching their business to a judging panel. The program has been replicated in eight schools in the county in alignment with Quinlan's course guide and lessons.
In 2015, Quinlan was selected to be one of the lead instructors for a weeklong institute in Honduras to build local entrepreneurship education for secondary and postsecondary teachers in a developing country.
"Express is in the business of putting people to work, and exemplary teachers like Cindy provide students with the type of skills highly sought after by employers. These are skills students must master if we want America to thrive and put more of our citizens to work," said Bob Funk, CEO and chairman of the board for Express Employment Professionals. "Sponsoring these awards is our way of encouraging educators throughout the U.S. that their work truly matters to the future of our economy."
Since 1954, ACTE has recognized those individuals who have made extraordinary contributions to CTE, programs that exemplify the highest standards and organizations that have conducted activities to promote and expand CTE programs. Award winners serve as inspirational leaders to ACTE: they embody the core values of serving their students and being committed to CTE.
About ACTE: The Association for Career and Technical Education (ACTE) is the nation's largest not‐for‐profit association committed to the advancement of education that prepares youth and adults for successful careers. ACTE represents the community of CTE professionals, including educators, administrators, researchers, guidance counselors and others at all levels of education. ACTE is committed to excellence in providing advocacy, public awareness and access to resources, professional development and leadership opportunities.
About Express Employment Professionals: Express Employment Professionals puts people to work. It generated $2.85 billion in sales and employed more than 456,000 people in 2014. Its long-term goal is to put a million people to work annually. For more information, visit ExpressPros.com.
For More Information:
Sherry Kast, APR
Corporate Communications and PR Manager
Express Employment Professionals
9701 Boardwalk Boulevard
Oklahoma City, OK 73162
(405) 840-5000
Sherry.Kast(at)ExpressPros(dot)com