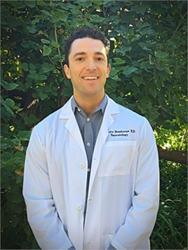 Beverly Hills, CA (PRWEB) December 18, 2015
Joining the specialized staff of cosmetic, medical and surgical dermatologists at Dermatology Associates Medical Group in Beverly Hills is Andrew Breithaupt, M.D., a board-certified, fellowship-trained surgical and cosmetic dermatologist who teaches at UCLA David Geffen School of Medicine. Dr. Breithaupt brings expert skill in the areas of skin cancer, Mohs micrographic surgery, reconstructive surgery, injectable fillers and toxins, non-invasive cosmetic surgery and both laser- and energy-based devices to the practice.
Holding professional memberships with the American Academy of Dermatology, the American College of Mohs Surgery, the American Society of Dermatological Surgery, the American Society for Laser Medicine and Surgery and the California Society of Dermatology and Dermatologic Surgery, Dr. Breithaupt is a leader in the fields of dermatologic and cosmetic surgeries who has published more than 20 scientific articles and four book chapters. Additionally, he has made more than 25 presentations at scientific presentations and is specially qualified to address all aspects of the aging process.
Dr. Breithaupt joins an experienced team of physicians and surgeons in his new role with Dermatology Associates Medical Group. Other providers at the practice include Lawrence S. Rivkin, M.D., Steven R. Weiss, M.D., Patrice M Healey, M.D., Joan A. Osder, M.D., Wendy L. Hoffman, M.D. and Judy Cheng, PA-C.
About Dermatology Associates Medical Group
Located in Beverly Hills, California, Dermatology Associates Medical Group (http://www.derm90210.com) is a medical and cosmetic dermatology practice led by physicians with a combined 125 years of experience in the field. Its state-of-the-art treatment options include CoolSculpting, resurfacing, Mohs micrographic surgery, laser hair removal, photodynamic therapy for pre-cancerous growths and more.
It also offers al the latest injectable fillers and wrinkle treatments, including Botox, Dysport, Xeomin, Juvederm, Perlane, Restylane, Radiesse and Sculptra.