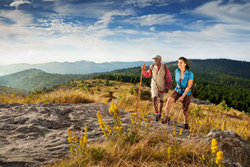 The Paris of the South
Asheville, North Carolina (PRWEB) December 11, 2015
Folks who are looking for a great place to retire and love to be outdoors will find a number of North Carolina mountain communities to choose from according to Real Estate Scorecard. In fact to validate the continued popularity of Western North Carolina, Asheville was just been named the #1 Place To Retire in America by Topretirements, a respected relocation resource. The award was based on the website's search trends, which reviews the standard of living for retirees in more than 1000 US cities. For 2015, Asheville topped the list based on criteria such as:
-daily lifestyle
-local active communities
-affordability
-accessible healthcare
-tax-friendliness
-weather and natural surroundings
-dining and entertainment
Dubbed "The Paris of The South", Asheville is known for being safe, friendly, and for its well designed North Carolina mountain communities. For retirees, the best places to live in Asheville NC offer security, serenity, active living, and first-class resort-style amenities. With so much to offer, the city has recently seen its name all over the media, having been named among:
"World's Best Cities" by National Geographic Travel
"Best Places To Go in 2015" by Frommers
"America's Smartest Cities" by Forbes
"The Most Romantic Fall Getaways" by Travel and Leisure
"20 Coolest Towns in the US" by Matador Network
"9 Most Romantic Cities in the South" by Huffington Post
With so much national attention, Asheville has seen a dramatic boom in its number of retirees. Residents enjoy golf, shopping, walking in the mountains, and hundreds of options for dining. Folks who are interested in North Carolina mountain communities, here are some of the best places to live in Asheville NC in close proximity to downtown Real Estate Scorecard finds of interest:
BILTMORE LAKE
Biltmore Lake is an ideal community, named for the lake it surrounds. The water itself is the highlight of this 1,000 acre mountain community. Residents enjoy fishing, kayaking, canoeing, and the beautiful waterfront views. And there are 4.2 miles of nature trails that meander throughout the property. At the center of the community, a charming lakefront clubhouse features tennis courts, a basketball court, a fishing dock, and a wonderful playground for children. And perhaps the best part of Biltmore Lake, is its location close to the entrance of the famous Blue Ridge Parkway, where locals go for scenic drives and walks in the colorful mountains. With 600 homes built, and 300 more on the way, folks will find plenty of warm and comfortable Asheville mountain homes for sale. Prices in Biltmore Lake start in the low $300k's.
SOUTHCLIFF
Another beautiful outdoor community goes by the name of Southcliff. With its green spaces, mountain views, and proximity to the city, this is certainly one of the best places to live in Asheville NC. Spanning 400 lush acres (half of which are untouched parklands), the property features 6 long miles of private nature trails. Unique amenities in Southcliff include scenic overlooks, open-air pavilions, and a fun community treehouse. This is a great place for those who love sweeping mountain landscapes. And residents here feel safe with a 24-hour manned gated entrance. Brand new mountain homes in Southcliff begin in the high $300k's, with empty lots ranging from the high $100k's to well over $1 million. Southcliff luxury townhomes are priced from the high $600k's.
REYNOLDS MOUNTAIN
Just ten minutes north of downtown Asheville is the gated community of Reynolds Mountain. Perched high above the city, this community features sweeping views of the beautiful Blue Ridge Mountains. Residents also enjoy views of downtown Asheville, spectacular sunsets, and tranquil Beaver Lake. At the base of this gated community, charming Reynold's Village has cafes and shops where locals can sit and enjoy a cup of coffee. With more than 30 acres of green space, and a maintained community park, there are plenty of ways to appreciate the surrounding natural landscape. There are currently 200 homes completed throughout the 500 acre community, and 400 more on the way, with a number of new and elegant Asheville mountain homes for sale. Lots averaging 1.3 acres range from $195k to over $1 million, while single-family homes and low-maintenance townhomes range from the $800k's to $1.2 million.
For information about any of these communities, call Sean McLaughlin of Mountain Oak Properties at 828.318.0007. He and his team are Asheville experts Real Estate Scorecard entrusts with their clients.
About Real Estate Scorecard:
Real Estate Scorecard writes unbiased real estate reviews providing in-depth information about popular gated communities in Florida, Georgia, the Carolinas, Tennessee and Central America, all in an effort to help people discover where to retire in the South.
Website: http://realestatescorecard.com