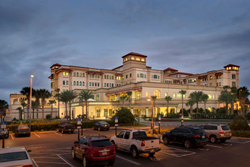 BIRMINGHAM, Ala. (PRWEB) December 10, 2015
Construction manager Robins & Morton and architect Earl Swensson Associates (ESa) were on hand December 3 to celebrate the grand opening of The Villages Regional Hospital's new patient tower addition at a ceremony on the hospital's campus.
The addition was 177,018 square feet of new construction, which included a vertical expansion of the new North Tower, and 28,253 square feet of renovation. The first floor expansion included three new operating rooms, 16 emergency department exam rooms, 25 pre/post exam rooms and additions to surgery discharge and the lobby. The second floor houses shell space for catheterization laboratory services, while the third floor includes 32 intensive care unit (ICU) beds, consolidating all ICU beds to this floor. The medical/surgical beds are on the fourth floor and, in 2016, a 22-room rehabilitation unit will open on the fifth floor.
Last month, Robins & Morton and ESa also celebrated the grand opening of Poinciana Medical Center's vertical expansion in Kissimmee, Florida, approximately 60 miles away. This project featured a 52,437-square-foot vertical addition to the hospital's original campus. This addition increased the private patient room count from 30 to 76 and added a community classroom, expanded elevators, additional parking and cafeteria seating. Both Robins & Morton and ESa were on the team that built the original facility.
# # #
About Robins & Morton
Founded in 1946, Robins & Morton is a privately held engineering and construction firm that consistently ranks among the 100 largest U.S. contractors in Engineering News-Record magazine. The company has also been named one of the best mid-sized companies to work for in America because of its worker-friendly and family-friendly practices. Robins & Morton is based in Birmingham, Alabama, with offices in Dallas, Texas; Huntsville, Alabama; Miami and Orlando, Florida; Nashville, Tennessee; Charlotte and Raleigh-Durham, North Carolina. For more information, visit http://www.robinsmorton.com.
About ESa
Earl Swensson Associates (ESa) is a 54-year-old architectural firm that designs hospitals, medical centers, specialty facilities, outpatient facilities, health and wellness centers and medical office buildings from coast to coast. Headquartered in Nashville, TN, ESa is consistently listed among the top design firms by Modern Healthcare. The firm is a charter member of the Planetree Visionary Design Network and an affiliate member of The Center for Health Design.