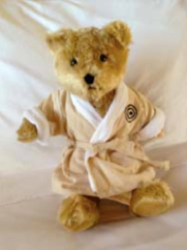 Santa Fe, NM (PRWEB) December 11, 2015
Ojo Caliente Mineral Springs Resort & Spa, one of the oldest natural health resorts in the U.S., has released its 2015-16 Winter Packages. Valid through February 29, 2016, the new packages include discounts for skiers, as well as a variety of one and two-night escapes. Ojo is also offering complimentary soaks with its "De-Stress for Less Spa Special" after purchases of $100 or more in spa treatments, and its "Shop & Soak Special" with merchandise purchases of $150 or more in Ojo's El Mercado Gift Shop and web store.
The 2015-16 Winter Packages were crafted with guest relaxation in mind. After an exhilarating day at nearby Taos Ski Valley, Red River Ski Area or any New Mexico ski resort, skiers can present their lift ticket or season pass to receive 20% off springs' entry or lodging. For those looking to experience more, Winter Package options include a relaxing one-night "Winter Dreaming" (from $399), two-night "Girls' Getaway" (from $599) and "Couples Romance Retreat" (from $619). These specials are all encompassing and include lodging in an enchanting Plaza, Pueblo, or Cliffside suite, choice of massage or spa therapy, yoga classes, and unlimited access to all mineral pools, including the Mud Pool. For the first time, all lodging packages include an Ojo S'mores Kit for guests to roast at the resort's fire pit. All three packages also offer access to a separate private outdoor pool with Kiva Fireplace.
Ojo's El Mercado Gift Shop offers a new selection of unique gifts, jewelry and clothing just in time for the holidays. With the "Shop & Soak Special," resort guests receive a complimentary day pass to the Springs (a $20 value) for every $150 in merchandise purchased in Ojo's El Mercado Gift Shop. Customers can also receive a free pass if they spend $150 online in Ojo's web store. Gift card purchases do not apply.
The Ojo Collection of microfiber robes, shirts, hats and bags are always great mementos of time spent at Ojo, as is the cuddly Oso de Ojo (Bear of Ojo) plush teddy bear.
Sterling Silver Fine Jewelry by Shaesby: Influenced by his mother's background in art, Shaesby's pieces are modern, feminine, and unique. El Mercado offers new items from his collection, including a beautiful forged bull nose sterling silver and gem pendant necklace.
PrAna: Ojo is proud to offer PrAna's stylish and sustainable clothing line for every day activities and adventures. Available in-store only, El Mercado offers a wide selection of PrAna apparel—shirts to sweaters, and more.
The "Shop & Soak Special" ends Dec. 31, 2015. Complimentary passes received through the Shop & Soak special can be used Monday – Thursday, excluding holiday periods, and expire February 29, 2016.
For more information on all Ojo specials, products and prices, please visit: http://www.ojospa.com.
For Media Inquiries:
Kathleen Langlois
413 374 7655
Kathleen(at)jlhmedia(dot)com
###
Ojo Caliente Mineral Springs Resort & Spa: Opened in 1868, Ojo Caliente Mineral Springs is one of the oldest natural health resorts in the United States, and the only hot springs in the world with a remarkable combination of four different sulfur-free mineral waters. Deemed sacred by the Native American tribes of Northern New Mexico, Ojo's legendary waters have been soothing mind, body and spirit naturally for thousands of years. The 1,100-acre resort features enchanting suites and charming cottages, a historic hotel and private homes. The full-service spa offers a wide array of restorative therapies including nurturing massage and rejuvenating body treatments. In The Artesian Restaurant and Wine Bar, Executive Chef Paul Novak incorporates Ojo's farm-grown herbs, fruits and vegetables into his global cuisine. Ojo Caliente Mineral Springs is located one hour north of Santa Fe and 45 minutes south of Taos, New Mexico. http://www.ojospa.com