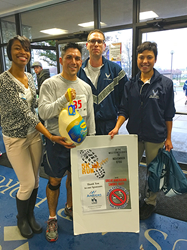 (PRWEB) December 11, 2015
Andrews Federal Credit Union recently served as a sponsor for the Great American Smokeout 5K Cold Turkey Trot held at the Joint Base Andrews Fitness Center.
The event, hosted by 779th Aerospace Medicine Squadron health promotion flight, is part of a national annual event that encourages smokers to join together to stop smoking "cold turkey" for 24 hours. By quitting – even for one day – smokers will be taking an important step towards a healthier life; one that can lead to reducing cancer risk. Since the annual event began, smoking on base has decreased 60%.
"It was an honor to support such a great cause," said Andrews Federal Credit Union's Rosalind Bishop, MD Regional Branch Manager. "Hopefully, this will kick start a new beginning in the participants lives as they seek to become smoke-free."
The Great American Smokeout event challenges people to stop using tobacco and helps make aware the many tools they can use to help them quit and stay quit.
About Andrews Federal Credit Union
Andrews Federal Credit Union was founded in 1948 to serve the needs of military and civilian personnel by providing a vast array of financial products and services. With over $1 billion in assets, Andrews Federal has grown to serve more than 113,000 members in the District of Columbia, Joint Base Andrews (MD), Springfield, Virginia (VA), Joint Base McGuire-Dix-Lakehurst (NJ), and military installations in central Germany, Belgium, and the Netherlands. In addition, the Credit Union serves as a financial partner with many select employee groups in Maryland, the District of Columbia, Virginia and New Jersey.
To learn more about Andrws Federal Credit Union and its community involvement, or to become a member, call 800.487.5500 or visit http://www.andrewsfcu.org.