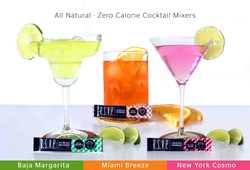 Miami, FL (PRWEB) December 11, 2015
MIAMI, FL-The holidays are finally here, which means it's time for everyone to brush up on their hosting skills and prepare for entertaining family, friends and co-workers! A good host will always have cocktails flowing at their special event. A great way to mix-up the cocktails, is with the brand new zero calorie, zero sugar cocktail mixer, R.S.V.P.® Cocktail Skinnies.
Made with top quality, plant-based ingredients only, no added sugars, no preservatives and most importantly no calories, R.S.V.P.® Cocktail Skinnies are the perfect choice for party-goers who are looking to keep that holiday weight off or maybe just save those extra calories for a few cookies instead! In addition to being a healthier option than most holiday cocktails, they are also a simple and quick option for a busy host. (check out this how-to video) No difficult prep or hard-to-find ingredients, just six ounces of water, one ounce of the liquor of your choice and one R.S.V.P.® Cocktail Skinnies packet, stir or shake and start serving! To make things even easier when serving to big groups, the cocktails can be pre-batched and made in a pitcher, which is a quick solution for thirsty guests who are eager for refills.
R.S.V.P.® Cocktail Skinnies are available in three popular flavors, including happy hour favorites such as Baja Margarita, New York Cosmopolitan and Miami Breeze. Hosts can either go with one of the original flavors or get creative and mix the Cocktail Skinny packets with Champagne to make a sparkling cocktail, or add different fruits such as Pomegranate Seeds, Raspberries or Blackberries to the Baja Margarita to add a kick of flavor and color to impress party guests.
For more information about R.S.V.P.® Cocktail Skinnies or to receive media samples, please contact April Donelson at april(at)adinnyc.com.
About R.S.V.P.® Cocktail Skinnies-Made with only the best quality 100% plant-based ingredients, no sugar, no preservatives and most importantly zero calories R.S.V.P.® Cocktail Skinnies are truly one of a kind. All of the ingredients are completely recognizable and they are extremely easy to make. No guesswork, fancy ingredients or bar utensils needed, just mix one R.S.V.P.® skinny pack with six ounces of water and one ounce of your choice of liquor, then shake or simply stir and enjoy. The three unique flavor profiles include happy hour favorites from different regions across the U.S.: Miami Breeze, Baja Margarita and NY Cosmo.