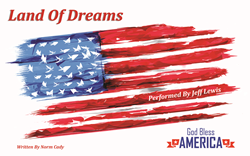 (PRWEB) January 12, 2016
Singer and songwriter Norm Cady, a native of Jamestown NY, has just released his latest video "Land Of Dreams", which he wrote in 2015 and it was just performed by Jamestown native Jeff Lewis for his soon to be viral video.
Cady, a talented singer and songwriter has been involved with many projects over his long career but this one is different. Cady says he considers himself a true patriot who loves his country and wanted to show the world how special the USA really is. "Land Of Dreams" is a positive, inspiring, and encouraging song and the accompanying video with all its American video vignettes, brings the American Dream to life during a very difficult time in this country's history.
Cady says Jeff Lewis took his song to the next level with an incredible performance that is sure to resonate with anyone who loves their country. "Land of Dreams" is currently available for listening and watching on YouTube. Cady encourages all to watch, enjoy and share this song with a few friends.
This Song Can Be Purchased By Visiting Landofdreams.xyz