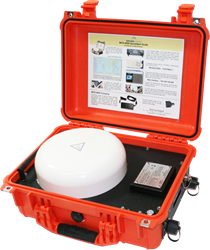 (PRWEB) December 16, 2015
Ground Control, a manufacturing company for full-service satellite Internet providers and satellite systems, has announced the launch of newest generation of the MCD-4800 "The Football." Through the use of in-motion BGAN technology, the MCD-4800 is capable of being used while stationary or in motion, such as on a vehicle or boat deck. The global communications case allows all personnel to create a WiFi satellite hotspot with the touch of a button and no pointing required.
The MCD-4800 is a one-hand carry-portable ruggedized case that requires no certification or training to operate. Users can be fully connected within 60 seconds of powering the unit on and walking away. The case produces a long-range 100 meter WiFi hotspot for any in-range wireless device to connect with.
The Gen II MCD-4800 now has a ruggedized internal equipment design and a power button placed on the inside of the case for ease of use. Additionally, the case now has an accessible WiFi antenna (802.11), a high-contrast daylight display, accessible SIM tray for BGAN SIM insertion, and new partner branding options. Ground Control has also implemented a new single AC/CD charger that does performs the functions of both a separate quick charge and trickle charge chargers. Details on the new features can be found at: http://www.groundcontrol.com/MCD-4800_BGAN_Terminal.htm#newfeatures.
"Since its release in 2011, the MCD-4800 has been in use worldwide with many government and public agencies for a variety of demands", said Jeff Staples, CEO of Ground Control. "In that time we've received excellent user feedback and have made significant improvements to the technology. The Gen II Football today is being touted for its ease of use, portability and quick deployment into a variety of unexpected communications requirements."
The internal battery of the MCD-4800 allows for internet speeds for up to 5 hours of 464 Kbps. The BGAN network is net-neutral so client applications are able to function normally over the Inmarsat satellite network. Greater security can be achieved from the front panel's RF-45 Ethernet connection, a firewall whitelist of approved IPs or protocols, or a MPLS private network to any destination for total security.
"Ground Control has created an ideal solution for organizations requiring global one-button mobile satellite Internet connectivity, integrating the Hughes 9450 BGAN in-motion terminal into the increasingly popular MCD-4800", said Graham Avis, Vice President at Hughes San Diego. "We are impressed with the simple one-button operation in a small form-factor Pelican case. The 'Global Internet Suitcase' has been invented."
The in-motion feature of the MCD-4800 means that it can maintain full connectivity even while turning at more than 45 degrees per second in any direction. This allows for unmatched flexibility for reliable communication, in any environment, anywhere on the globe.
The MCD-4800 has an impressive environmental rating of IP66 (water jets from any direction), and since it operates with the case lid closed, water and dust and dirt penetration are largely mitigated. Operational temperatures of the terminal are rated at -15° F to 131° F (-26˚ C to +55˚ C).
For more information on the MCD-4800 "The Football," please go to: http://www.groundcontrol.com/MCD-4800_BGAN_Terminal.htm
To view a video about the MCD-4800, please go to: https://www.youtube.com/watch?v=XPpsv4RvXn4
About Ground Control Systems, Inc.
Ground Control is a full-service satellite Internet provider and satellite systems manufacturer offering high-speed fixed, mobile, portable and maritime solutions for organizations throughout the world. Ground Control manufactures the MSS Toughsat mobile satellite systems as well as provide connection services for all of our product offerings. Clients include federal, state and local governments, educational institutions, oil & gas, emergency and disaster services, fortune 1000 businesses, small businesses and professionals. For more information, please visit http://www.GroundControl.com
About Hughes Network Systems
Hughes Network Systems, LLC (Hughes) is the global leader in satellite broadband for home and office, delivering innovative solutions and a comprehensive suite of HughesON™ managed services for enterprises and governments worldwide. HughesNet® is the #1 high-speed satellite Internet service in the marketplace, with offerings to suit every budget. To date, Hughes has shipped more than 5 million systems to customers in over 100 countries, representing approximately 50 percent market share. Its products employ global standards approved by the TIA, ETSI and ITU organizations, including IPoS/DVB-S2, RSM-A, and GMR-1.
Headquartered outside Washington, D.C., in Germantown, Maryland, USA, Hughes operates sales and support offices worldwide, and is a wholly owned subsidiary of EchoStar Corporation, a premier global provider of satellite operations and digital TV solutions. For additional information about Hughes, please visit http://www.hughes.com.