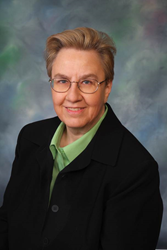 Edina, Minn. (PRWEB) December 11, 2015
Anne Machesky, registered representative of Lincoln Financial Advisors, was featured in Women in Insurance & Financial Services' (WIFS) debut publication, Financial Services: Women at the Top – A WIFS Research Study, released on July 31, 2015.
WIFS is an organization devoted to attracting, developing and advancing the careers of women in the financial services industry. For the basis of the book, WIFS compiled and analyzed the results of a survey that asked 800 women in the industry to answer the question: Why do some women achieve major success in the financial services industry and others do not?
The book highlights 23 industry professionals, including Machesky, who share insight around what attracted them to the business, how they developed their practices, what they learned along the way and how they have created a life that blends family, community service and a fulfilling career. As an active member of Lincoln's WISE (Women Inspiring, Supporting, and Educating) Group, an organization designed to better support the unique needs of female financial advisors and clients, Machesky understands the importance of empowering women in the financial services profession.
"It's wonderful to see the value women bring to the financial services industry," said Machesky. "The WIFS book highlights the passion, commitment, and ongoing impact women have made on the industry overall."
In addition to being featured in the WIFS book, Machesky was named in their 2015 Circle of Excellence, an award program which recognizes WIFS members who have achieved significant success in the insurance and financial services industry.
Machesky has been in the financial services industry for 34 years. In her practice, she provides comprehensive financial advice, specializing in wealth and income planning. In addition to advising, Machesky has served as host and speaker at Lincoln Financial Advisors' annual education forum since 2004. Prior to joining Lincoln, Machesky served as founder and president of her own registered investment advisory firm for 18 years. She is also president of Nwyze, a thought strategies company focusing on broadening individual or group perspective to navigate shifts in business transitions. Machesky holds FINRA Series 7 and 24 registrations.
Machesky's office is located at 7701 France Avenue South, Edina, Minn.
About Lincoln Financial Network
Lincoln Financial Network is the marketing name for the retail sales and financial planning affiliates of Lincoln Financial Group and includes Lincoln Financial Advisors Corp. and Lincoln Financial Securities Corp., both members of FINRA and SIPC. Consisting of almost 8,500 representatives, agents, and full-service financial planners throughout the United States, Lincoln Financial Network professionals can offer financial planning and advisory services, retirement services, life products, annuities, investments, and trust services to affluent individuals, business owners, and families.