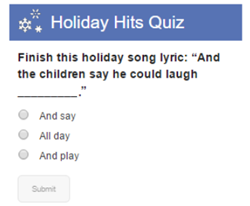 "Further engage visitors while simultaneously collect valuable research data about the audience."
Pittsburgh, PA (PRWEB) December 14, 2015
CivicScience, the provider of solutions for intelligent polling and real-time market insights, today announced a variety of quiz-style applications that online content publishers can use – at no cost – to further engage their visitors while simultaneously collecting valuable research data about their audience.
These trivia-style offerings not only provide entertainment value to site visitors (and increased time-on-site potential), but they also integrate market research questions to help the publisher better understand the tastes and profiles of their audience as a whole. The benefits of those audience insights can be tapped by editorial teams, sales and revenue departments, customer service, and product development.
CivicScience's quizzes provide the following advantageous features:

They are easily embedded onto the page, using a few lines of code, and they are mobile compatible.
They can be visually configured to either match the look of the web page or for high contrast.
They maintain respondent privacy and anonymity, collecting no personally identifiable information (PII).
The questions and answers are pre-authored by CivicScience and can be reviewed by an individual publisher prior to deployment.
They allow the publisher to add in several of their own custom research questions (that only they can access), aimed at their audience to use for advertising intelligence or other business purposes.
Publishers gain access to all of the data collected from the quiz app(s) via the CivicScience InsightStore™.
There is never any fee to publishers to use CivicScience.
Current quiz offerings from CivicScience include: Star Wars Trivia; Holiday Hits Trivia; Winter Weather Trivia; Pro Sports Trivia; Young & Famous Trivia; TV of Yesterday and Today Trivia; Current Events Trivia; and Grammar Trivia. Custom quizzes are also available and can be discussed with the CivicScience publisher partnership team. There is no limit to the number of CivicScience quizzes that a publisher can feature across their website.
"Publishers using our quiz products gain the dual benefits of providing interesting, on-site interaction with their audience while also gathering deeper intelligence in a way that still protects visitor privacy," said Pedro Barelli, Chief Operating Officer for CivicScience. "Our publishers use such research insights to secure advertising revenue, improve editorial direction, and better plan their product and service offerings – all without adding expense to their operations."
To request a demo of CivicScience quizzes and learn how to get started, please visit:
http://info.civicscience.com/quizzes/
About CivicScience
CivicScience, Inc. provides the leading intelligent polling and real-time insights platform, the InsightStore™. CivicScience polls and quizzes run on hundreds of premier websites, delivering both syndicated and custom research questions and quickly getting response intelligence to the decision makers who care. That data is centralized in the InsightStore™, which employs powerful data science to analyze current consumer opinions, deeply understand consumers, discover trends as they start, and accurately predict future behaviors and market outcomes. CivicScience's InsightStore™ is used by leading enterprises in marketing research, advertising, media, services, and consumer brands. http://www.civicscience.com