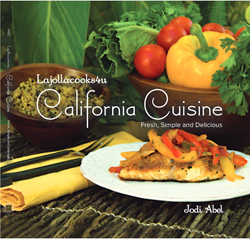 The cookbook looks amazing! I can't decide what to cook first. The Chocolate Melting Cakes look so incredible!
San Diego, CA (PRWEB) December 16, 2015
Lajollacooks4u has released its stunning new cookbook, Lajollacooks4u: California Cuisine: Fresh, Simple and Delicious. Chef Jodi Abel, Lajollacooks4u founder, exhibits her culinary artistry with nearly 100 mouthwatering farm-to-table recipes.
The cookbook's incredibly talented production team helped Abel's cookbook come to life. Local chef and food photographer, Chelsea Carpenter, and multi-talented designer and food stylist, Lisa Serban, were the architects behind every gorgeous photograph. Carpenter and Serban utilized vibrant coloring and lighting to perfectly capture the essence and texture of each dish, while paying homage to California's immense diversity and beauty.
Abel's cookbook provides a delicious array of her renowned and tantalizing recipes. Abel combines gourmet and simplicity to deliver unforgettable recipes and colorful visuals for a delectable culinary experience. The cookbook delves into a variety of international flavors, from Asian, Mediterranean, and Latin influence, while offering creative flavors found exclusively in Southern California. Each scrumptious recipe provides an assortment of fresh flavors, ideal for all holiday tables.
The recipes in Abel's cookbook can be conveniently altered to fit any dietary needs, suitable for all palettes. Whether you're vegetarian, vegan, paleo, dairy-free or gluten-free, there are options for everyone.
The responses Chef Jodi Abel has received about the cookbook have been nothing short of extraordinary. Izzy Ascione, a dedicated Facebook fan from the Bay Area, emailed Abel to express her eagerness and excitement. "I'm looking through the cookbook right now," said Ascione. "The cookbook looks amazing! I can't decide what to cook first. The Chocolate Melting Cakes look so incredible," she said.
Those who have already tackled the appetizing recipes are raving over the enticing flavors and simple instructions.
Cobey Elmer, another loyal Lajollacooks4u fan and foodie, shared her successful cooking experience: "I made the Peri Peri Chicken today. The flavors of the fresh ingredients were absolutely delicious!"
The diversity of the recipes cater to all palettes, with so many options for upcoming holiday events, special occasions, and even casual weekday meals. Chef Jodi Abel's cookbook is an ideal and timeless gift for anyone and everyone.
About Lajollacooks4u:
Lajollacooks4u, founded in 2008, offers customized cooking classes and provides an ideal setting for corporate team building, couples and any foodie looking for a unique cooking and culinary experience in a magnificent setting overlooking the Pacific Ocean. Based in La Jolla, a suburb of San Diego, CA, Lajollacooks4u has enjoyed record growth since its inception and has been ranked the number one attraction in La Jolla on the popular travel review site, Trip Advisor. For more information, contact Jodi Abel at jodi(at)lajollacooks4u(dot)com or phone 1-858-752-4980
Lajollacooks4u customizes all events to meet the desires and needs of the organization. For reservations, contact Jodi Abel, or visit Lajollacooks4u's website at http://www.lajollacooks4u.com