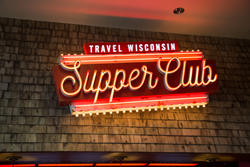 Madison, WI (PRWEB) December 11, 2015
In another first for the Wisconsin Department of Tourism, today it launched the Travel Wisconsin Supper Club Concession Stand at the Kohl Center in Madison. Opened in time for Saturday's University of Wisconsin men's basketball game against Marquette University, the remodeled concession stand captures the ambiance and menu of a traditional supper club. The stand is located outside of Section 112 at Gate C.
"It's innovative, out-of-the-box and just plain delicious. To our knowledge no one else is doing anything like this," Tourism Secretary Stephanie Klett said. "Supper clubs have been an iconic Wisconsin tradition for nearly one hundred years. Food is a big driver of tourism and this is a fun way to get our tourism message and brand in front of a highly qualified audience of potential travelers."
The concession stand evokes the supper club look and feel with a reclaimed red oak counter top with red vinyl tufted upholstered front, cedar shake shingle roof, pendant and overhead mood lighting, and decorative ceiling panels. Other décor props include mounted fish and deer rack, historic UW sports memorabilia and photos, and framed black and white photography of supper clubs and tourism attractions courtesy of the Wisconsin Historical Society. A neon "Travel Wisconsin Supper Club" sign crowns the stand.
The appearance is not the only change. Levy Restaurants created a rotating menu inspired by supper clubs found throughout the state, which includes classic dishes like pot roast, smoked salmon, beef brisket chili, stuffed shrimp, cheese curds and Friday fish fry. Modifications were made to food service equipment and a deep fryer was added to support the new menu.
According to Chef Jason Steidle of Levy Restaurants, "Supper club dining is about atmosphere and simple, authentic meals. To bring the concept together in a sports venue was a unique challenge, and we hope the result will delight fans and inspire continued interest in the decades-old supper club culture for years to come."
Levy Restaurants provides hospitality and fan experience services in more than 100 arenas, stadiums and ballparks worldwide and hosts events such as the Kentucky Derby and U.S. Open.
"The Travel Wisconsin Supper Club stand enhances the fan experience at the Kohl Center," UW Director of Athletics Barry Alvarez said. "Fans coming to a game or concert from school or after work now have the unique option to get a restaurant-quality meal with the added ambience of a Wisconsin supper club."
The Kohl Center, opened in 1998, is the home for the UW men's and women's basketball teams, as well as the men's hockey team. In addition to Badgers athletics, the Kohl Center hosts numerous other events throughout the year including commencement ceremonies for the University and Madison high schools, concerts, ice skating shows, career fairs, and conventions.
The Department of Tourism's partnership with UW Athletics also includes radio spots, print advertising in Varsity magazine, digital impressions on UWBadgers.com, social media integration, promotional opportunities, and additional in-stadium signage.
This is the second successful partnership with UW Athletics for the Department of Tourism, which created a TV commercial starring UW-Madison Men's Basketball Coach Bo Ryan. The ad aired during the 2015 Big Ten and NCAA Championships and received more than six million impressions. In addition, it has been viewed online some 526,000 times, a record for any TV spot in the Department's history.
The concession stand was built by JP Cullen of Madison.
The mission of the Wisconsin Department of Tourism is to market the state as the Midwest's premier travel destination for fun. Traveler information can be found at http://www.travelwisconsin.com.
MEDIA CONTACTS:
Kristina LeVan
608-266-0458; klevan(at)travelwisconsin(dot)com
Lisa Marshall
608-267-3773; lmarshall(at)TravelWisconsin(dot)com