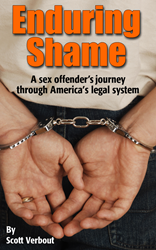 I had a momentary lapse of good judgment, and according to current laws, that is all it takes to label someone a sex offender for life. — from "Enduring Shame"
(PRWEB) December 14, 2015
In 2013, Scott Verbout was convicted of luring a minor over the Internet and became a registered sex offender. Verbout knows he made a terrible mistake, but even though there was no victim, and Verbout believed he had been entrapped by the police officer who arrested him, he was still convicted under current sex offense laws.
This experience became the basis for the eBook "Enduring Shame: A Sex Offender's Journey Through America's Legal System," a first-person account detailing Verbout's arrest and conviction, as well as his life on probation as a registered sex offender. Verbout, who previously wrote "An Asperger Journey: My Lifelong Battle With Autism," also reveals how having Asperger's syndrome, a socially debilitating form of autism, contributed to his being in this unfortunate position.
Because of the stigma associated with sex offenders, Verbout originally published the book anonymously in 2013. Now, following failed attempts at a governor's pardon and trying to get sex offense laws changed, Verbout has updated the book and republished it using his real name. Verbout understands the risk he is taking by revealing his name, but he believes his story is worthy of being told.
In addition to documenting his own case, Verbout offers a blistering rebuke of the country's legal system. Using the assessments of both legal experts and mental-health professionals, Verbout paints a picture of a legal system run amok, and gives frightening examples of how current sex offense laws have been abused by law enforcement and how those laws need to be reformed. Verbout also hopes that by pointing out the injustices that occurred in his own case, his criminal conviction can be thrown out, and he provides information for anyone who would like to get involved.
"Enduring Shame: A Sex Offender's Journey Through America's Legal System" is available as an eBook at Amazon.com: http://www.amazon.com/gp/product/B00G3EAJ3A?keywords=scott%20verbout&qid=1449870939&ref_=sr_1_2&sr=8-2
For media outlets wishing to obtain a review copy of the book in PDF format, please contact sverbout(at)cox(dot)net or call 480-209-9781. Verbout is willing to grant interviews.