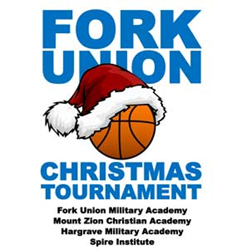 Looks to provide an entertaining set of match-ups between four of the nation's premier basketball programs
Fork Union, Virginia (PRWEB) December 10, 2015
The annual Christmas Tournament at Fork Union Military Academy, long an exciting fixture in the postgraduate basketball team's December schedule, is returning this year after a three-year layoff and looks to provide an entertaining set of match-ups between four of the nation's premier basketball programs. The Christmas Tournament gets underway this Friday at 6:00 PM in the Thomas Gym on the campus of Fork Union Military Academy with a matchup between top-ranked Hargrave Military Academy from Chatham, Virginia and Spire Institute from Geneva, Ohio. The second game between Mount Zion Christian Academy of Durham, North Carolina and host Fork Union Military Academy will follow at 8:00 PM Friday evening. Saturday afternoon, the consolation match to determine the 3rd and 4th place finishers will tip-off at 2:00 PM, with the Championship Game between Friday's winners to follow at 4:00 PM.
The games will be broadcast & webcast by FoxSports Radio 1340 AM with color commentary by radio host (and Fork Union alumnus) Del Harris. You can listen online to their broadcast by following the links at http://www.foxsports1340am.com.
The games will also be seen by video livestream online via The Cube at http://thecube.com/event/580782 for the first game on Friday at 6:00 PM, and http://thecube.com/event/580744 for the 8:00 PM game on Friday featuring Fork Union Military Academy tipping off against Mount Zion Christian Academy.