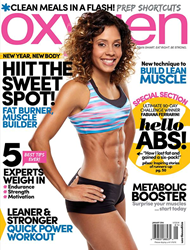 My Mental Strength Was Tested Through Out the Challenge and There Was No Way I Was Going to Give In!
Philadelphia, Pennsylvania (PRWEB) December 11, 2015
Fabiana Ferrarini, a stay-at-home mom and physical fitness trainer, is Oxygen magazine's first Latina cover model. Ferrarini will receive top billing in the January 2016 edition after being voted the winner of The Ultimate Oxygen Magazine Challenge – a 90-day training and nutrition program.
Ferrarini, along with 4,000 other women, submitted "before and after" photos and measurements for the Challenge. After being named a top twenty finalist by the magazine's editorial staff, Ferrarini shared her contest link via social media. Following five days of online voting, she became the number one vote-getter, winning the ultimate honor of appearing on the cover of Oxygen magazine.
Oxygen magazine is designed to inform, educate and inspire women of all ages about the joys and benefits of fitness, proper nutrition, health and resistance training. Ferrarini's "Celebrate Your Curves" mantra reinforces the belief that working with your shape, rather than fighting it, is the key to positive body image.
Ferrarini, who was born in Honduras and came to the U.S. at age six speaking no English, has a BS in Life Science from Penn State University. She is a physical fitness trainer and trains Philadelphia-area clients while stressing the importance of embracing "the real you." As committed to health and nutrition as she is working out, Ferrarini turned to fitness after struggling with weight gain, low self-esteem and depression following the birth of her second son. Today she is a stay-at-home mom and certified physical fitness trainer.