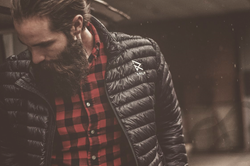 I decided the best way to show people how it performs in water was to put the jacket on and put it to the test myself.
Provo, Utah (PRWEB) December 11, 2015
Ravean, the heated jackets and vests, battery-free heated gloves, and heated hoodie line, has released new videos staring the Ravean co-founders demonstrating how well the jackets perform in extreme conditions including under water.
"One of the questions we get asked is 'will it still work if it gets wet," said Bryce Fisher, Ravean co-founder. "So I decided the best way to show people how it performs in water was to put the jacket on and put it to the test myself."
Bryce showed remarkable technique with a series of backflips and dives into a freezing swimming pool with the heated jacket turned on full blast, not once, not twice, but three times. The result: The Ravean Jacket survived and continued to operate perfectly. Here's the must see episode of "Ravean Heated Jacket vs. Frigid Pool".
After the pool, it was time for Toughness Test #2 with co-founder Jon Bybee. This time Jon took the Ravean heated jacket to the street, literally. Can the Ravean heated jacket survive being run over, not once, not twice, but six times, by a motorcycle, a car and then a truck? Once again the Ravean heated jacket survived and kept performing perfectly. Check it out in this episode of "To Crush or Not To Crush", once again seeing is believing.
Ravean co-founder Jon Bybee also put together this helpful new video that demonstrates the jackets features which include:

High, medium, and low settings allow for a totally personalized level of warmth
Patented carbon heating system is literally indestructible
Heated glove connector system allows the jackets to heat to your fingertips
Lightweight 12V battery beats competitors - at just half a pound it delivers 6 hrs of heat
The same battery can recharge your portable devices up to six times over
Each model is 100% washable, 100% waterproof, and backed by a 5-year warranty
Ravean is leading the way in a new era of smart climate-controlled winter apparel with an all-in-one solution that's perfect for unexpected temperature drops and solves the problem of bulky uncomfortable winter jackets. Ravean Jackets also come with a built-in smartphone charger.
The Ravean C6 Heated Jacket & Heated Glove system is engineered to keep users comfortable in temperatures ranging from -4°F up to 55°F.
After it's Kickstarter success Ravean Jackets are now available at special pre-order pricing on Indiegogo InDemand.
About Ravean
Let's be real here for a moment; we're not the first people to come up with the idea of heated jackets or heated gloves. We're just the first ones to do it right. By doing it right we mean our jackets look good, they're durable, they're affordable and they integrate our technology seamlessly and unobtrusively. Finally, there's a heated jacket you can wear with equal comfort and style from the mountains to the office without missing a beat. Sure it's been tried before but other solutions have been pricey, ugly and the technology was problematic. Ravean has addressed and solved each of these issues to present jackets you can wear anywhere, that are as stylish and durable as they are warm and cozy.