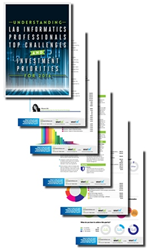 London (PRWEB UK) 15 December 2015
The results have been compiled into an exclusive report to help lab informatics professionals benchmark against their peers and for solution providers to help them achieve their goals: Understanding Lab Informatics Professionals Top Challenges and Investment Priorities for 2016
80% of lab informatics professionals have highlighted laboratory systems integration as a long term strategic goal within their organization. Whilst the main challenge is an old enemy – change management – this was closely followed by discontinued technology/ software packages.
Increasing data usability in and out of the laboratory, implementing a laboratory informatics system (LIMs or ELNs) and investing in practical software/hardware solutions to increase efficiency of the workflow were also highlighted as top investment priorities for 2016, with workflow automation appearing to be one of the main challenges which is preventing lab informatics professionals from achieving their goals.
This report analyses and discusses the main challenges lab informatics professionals have highlighted as a priority for 2016 including; the key trends, developments and solutions impacting the industry, top projects, what companies seek to achieve and struggle with when it comes to implementing solutions and much more.
The report is available to download here.
The main challenges and topics that are covered in this report will be discussed in more detail at the SmartLab Exchange happening in San Diego (February 23-24) and Munich (9-10 February. For more information or to request an invitation to attend the SmartLab Exchange in San Diego click here, or for more information about the Exchange in Munich click here. You can also call +44 (0)207 368 9484 or email exchangeinfo(at)iqpc.com.