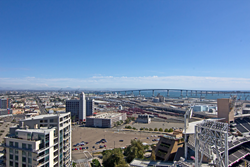 "The ELA program addresses the urgent need for local leaders to have a strong understanding of the complex environmental issues facing our region" - Mike Schroder, CSUSM Dean of Extended Learning
San Marcos, CA (PRWEB) December 15, 2015
The recent climate talks in Paris highlight the importance of tackling environmental issues on a global scale, but there's also a strong need for informed leadership to address critical policies and issues at a local level. The goal of the Environmental Leadership Academy (ELA) program offered by California State University San Marcos Extended Learning is to help meet this need with a unique, comprehensive program focusing on issues vital to the future of Southern California. ELA allows stakeholders like community leaders, city planning and economic development professionals, and concerned citizens, to gain insight into the impact of issues like climate change, land use, water quality, and sustainability on the Southern California region.
Led by Matt Rahn PhD, JD, Academic Director of Environmental Science at SDSU and Executive Director of the Wildfire Research Center, the ELA program combines experiential and classroom learning to provide participants with a holistic understanding of these vital issues. Field demonstrations, hikes, interactive group discussions, expert panels, and focused lectures are held on-site at locations that highlight Southern California's varied ecosystems. The North San Diego County Region program that will be held this spring includes trips to Agua Hedionda Lagoon, the Elfin Forest, and an overnight retreat in Julian.
"The ELA program addresses the urgent need for local leaders to have a strong understanding of the complex environmental issues facing our region," says Mike Schroder, Dean of Extended Learning at CSUSM. "We hope that participants will be able to emerge as key decision-makers in the development of policies, solutions, and best practices that balance population growth and economic vitality with environmental stewardship and sustainability."
The Environmental Leadership Academy certificate program is open to all community members interested in taking an active role in the future sustainability of the region, with enrollment capped at 30 participants. The program takes place over four months, with one two-day session per month. The upcoming ELA program focusing on North County San Diego begins February 11, 2016. Attendance at all four sessions is required to complete the program and receive the Environmental Leadership Academy certificate. To learn more or to enroll, call 760-750-4004, or visit http://www.csusm.edu/el/environmentalleadership.
ABOUT CSUSM EXTENDED LEARNING
As the academic outreach arm of Cal State San Marcos, Extended Learning is a leading provider of professional and continuing education in North San Diego and Southwest Riverside Counties. Offering degree programs, such as a specialized accelerated MBA degree, as well as both academic credit and noncredit professional enrichment courses, Extended Learning helps individuals and organizations achieve their educational and training goals. For more information about Extended Learning at CSUSM please visit http://www.csusm.edu/el/.