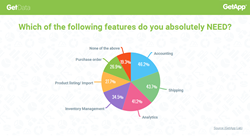 ...it's about managing every part of your businesses in the most streamlined way.
San Francisco (PRWEB) December 17, 2015
A new survey published today by GetApp, the largest cloud-based business app marketplace, shows the majority of small to medium-sized businesses do not rely on established online sales channels as they look to grow their market share in the dynamic ecommerce sphere.
According to the new research, nearly a third of the 150 small businesses surveyed chose Amazon as their preferred online sales platform, far above other popular sales channels Shopify (7.5%), Magento (3.3%), Amazon's FBA and Rakuten (1.7%), and Bigcommerce (0.8%). However, the remaining 67.5% of respondents stated that they applied none of the shortlisted platforms for their sales strategies — a figure that suggests a preference for sales through in-house channels or via emerging platforms that are offering increasingly powerful complete solutions, giving business more control over their processes.
The independently led research, which brings together responses from senior professionals working at small and medium-sized businesses across the US, forms part of GetApp's ongoing GetData research program.
Christophe Primault, co-founder and CEO of GetApp, says, "This raw dataset can be extremely beneficial to both small businesses and sales platform providers as it gives an insight into current ecommerce trends from an on-the-ground perspective. The data shows that not every small businesses will look for most popular solution or the biggest sales brand — they will look for the type of channel that suits them, and we know that there are more and more platforms out there offering enterprise-grade solutions to the smaller sellers."
Additional data gathered by the survey shows that small businesses see accounting, shipping and analytics as the must-have features for any online sales solution. Despite Amazon leading as the top preference, the survey's two combined figures reveal that small online businesses are increasingly savvy and are looking beyond one sole online channel.
With the ecommerce market in the US set to increase 10% annually over the next five years — according to Forrester forecasts — it remains important for businesses, regardless of their size, to know their audience and apply dynamic sales strategies.
"Channels like Amazon have exposed small and medium-sized businesses to a wider market, but now companies are looking for more control over their processes. It's not only just about getting noticed and shipping the product out to a client, it's about managing every part of your businesses in the most streamlined way. This data shows that businesses know what they want, and luckily there are powerful tools that integrate with existing popular platforms while still giving small operations full oversight," explains Chad Rubin, CEO of ecommerce solution company Skubana.
GetData research is conducted independently by GetApp and gives deep insights into the impact of SaaS and cloud-based solutions on small and medium-sized companies. The analyzed information from the ongoing research helps show real, current interaction between SaaS customers and products and services.
Full survey details:
Answers to the question "What channels do you sell on?"
#1. Bigcommerce (0.8%)
#2. Amazon (28.3%)
#3. Shopify (7.5%)
#4. Magento (3.3%)
#5. Rakuten (1.7%)
#6. FBA (1.7%)
#7. None of the above (67.5%)
and
"Which of the following features do you absolutely NEED?"
#1. – Accounting (46.2%)
#2. – Shipping (43.7%)
#3. – Analytics (41.2%)
#4. – Inventory Management (34.5%)
#5. – Product listing/ Import (27.7%)
#6. – Purchase order (26.9%)
#7. – None of the above (19.3%)
Demographics: 150 US-based respondents from a panel of SMBs (Small and Medium-sized Businesses). Respondents are aged between 25 and 54 and have an average inferred annual income of $24k – $150k.
More about GetApp: GetApp, a Gartner company, is an online marketplace for cloud-based business apps, specializing in helping small and medium-sized businesses find, research, and get in touch with business app providers from over 100 software categories. GetApp's Europe office is based in Barcelona, Spain, and the U.S. office is in San Francisco, CA.