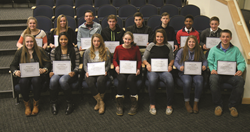 We are proud of the hard work, dedication, and leadership displayed by this group of student-athletes
(PRWEB) December 14, 2015
The 2015 Fall athletic season produced exciting games, races, two NEPSAC Tournament selections, and league and regional honors for Lexington Christian Academy student-athletes. Boys Varsity Soccer and Girls Varsity soccer were both selected to their respective NEPSAC tournaments and finished as quarterfinalists.
Varsity Field Hockey captain Bryn Gough '16 displayed strong leadership throughout the season and was selected as Eastern Independent League Honorable Mention. Additional EIL Honorable mention selections included David Cravens '17 who captained the Boys Varsity Soccer team. Cravens helped to control the midfield for the Lions all season long. Two Lady Lions soccer players, goalkeeper Samantha Gibson '16 and midfielder Hannah Lauffer '17, were also named EIL Honorable Mention. A three-sport athlete, Gibson was a tough competitor and outstanding goalkeeper for LCA. Hannah Lauffer played a vital role in the LCA midfield playing a holding midfield position in front of the two center backs often making important tackles and beginning the attack.
Both Boys and Girls Varsity Cross Country had strong seasons with the boys finishing 4th at the EIL Championships and 6th in the NEPSTA Championships. Mikayla Cravens '18 was an EIL Girls Cross Country All-League selection. She finished 6th at the EIL Championships at Franklin Park. Connor Meaney '16, Stephan Wallace '18, and Alex Cravens '20 were named Boys Cross Country All-League. At the EIL Championships Alex Cravens finished 4th overall while Connor Meaney finished 6th and Stephan Wallace 12th. Mikayla Cravens, Stephan Wallace, and Alex Cravens were also named NEPSTA All-Stars for their performances in the NEPSTA Championships at South Kent on November 14.
Jake Kakar '17 was named EIL All-League for Varsity Golf. Jake had a strong season for the Lions as he was their top golfer all season long and qualified for the top flight at the EIL Varsity Golf Tournament at Stowe Acres.
Boys Varsity Soccer captain Reuben Duttweiler '16 and goalkeeper Walter Sharon '17 were selected EIL All-League. Sharon was arguably the top goalkeeper in the EIL while Duttweiler led the team with 13 goals on the season. Duttweiler also received recognition as a NEPSAC Senior All-Star and scored a goal in the annual all-star game on November 22 at Brooks School leading his East All-Star to a 2-1 victory. Duttweiler and Sharon were also instrumental in guiding their team to their second straight NEPSAC Class D tournament.
Girls Varsity Soccer had four players recognized as EIL All-League for their efforts this fall. Katie Braga '16 and captain Courtney Teehan '16 received the honor along with captains Shae Roys '16 and Meaghan Hayes '16. Braga was a powerful offensive force for the Lady Lions while Teehan anchored the defense. Hayes finished 3rd in the EIL with 17 goals and 4th in the EIL in points with 44, while Roys led the EIL with 18 assists and was tied for third overall in points with 48 on the season. Teehan and Roys were named EIL All-League for the 4th straight season and led the Lady Lions to their 4th straight NEPSAC Class C tournament appearance.
"We are proud of the hard work, dedication, and leadership displayed by this group of student-athletes," Ryan Patrie '03, LCA Athletic Director remarked, "They have represented their teams and LCA well throughout the fall and deserved this recognition from the Eastern Independent League."
In addition to the student-athlete recognition, Boys Varsity Soccer coach, Scott Stevens '87 was voted EIL Coach of the Year for the 2015 season by his peers. Coach Stevens' team competed hard every game and played a quality brand of soccer. The boys finished the regular season 7-7-3 and were NEPSAC Quarterfinalists. It is Coach Stevens' second stint as the coach of the LCA boys' soccer program, but his first year back since 2010. He started the girls' soccer program at LCA in 1993 and coached the varsity team until 2009. "Coach Stevens is a player's coach. He invests in his players' lives, not just their soccer playing. He inspired them and dared them to be excellent. The team's success this fall is directly related to Coach Stevens' ability to teach and motivate," said Patrie.
Lexington Christian Academy is an independent college preparatory school that exists to educate young men and women in the arts and sciences in the context of a complete commitment to the gospel of Jesus Christ.