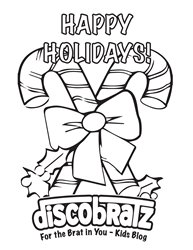 (PRWEB) December 13, 2015
As the holiday break approaches for children as well as many of their parents, DiscoBratz has published a timely new Christmas coloring page perfect for a little family togetherness. The creative activity features candy canes, the added touch of some holly, and a perfectly tied bow to wrap up a festive scene that's just waiting for color to be added. DiscoBratz continues to provide fun and informative resources for all things that kids, and their families, enjoy.
About DiscoBratz
DiscoBratz is the brand that promotes family products and activities that engage and enrich both children and adults, supporting ways the entire family can have fun together, bond, and connect. The DiscoBratz are twins, a boy and a girl, who love both art and science. They serve as an important reminder to us all that its possible to pursue interests in subjects of a varied nature.
About Susie Almaneih
Susie Almaneih spent several years during her young adulthood teaching children dance at her church group, as well as other cultural-based activities. Susie now spends as much time as she can giving back to the families in her community. Over the years, this love for community has evolved into a deeper love for delivering positive and creative content and awareness to families of all ages.