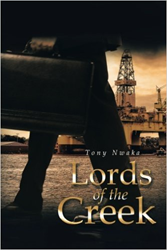 I hope to shine a light on the Niger Delta crises that endanger Nigeria today.
ASABA, Nigeria (PRWEB) December 14, 2015
A November 2015 article in The Guardian states that pipeline vandalism and oil theft in the Niger Delta costs the Nigerian state and oil companies, such as Shell, $14 billion a year, adding that unemployed residents of the region frequently crack the pipes so that oil companies must hire workers to repair the damages.
This instability within the region has resulted in chiefs, paramount leaders and youth and cult leaders to use their power to their own advantages, creating divisions, wealth inequality and distorted power structures within communities.
In his new novel, "Lords of the Creek," Nigerian public policy consultant Tony Nwaka channels this current volatility of the oil-rich Niger Delta into a social and political thriller about a Nigerian oil businessman who is drawn into centuries-old conflicts during his attempt to rescue an abducted princess within the region.
Through his novel, Nwaka hopes to invite attention to the forces militating against the development of the Niger Delta and promote interethnic harmony within the region.
"By incorporating the links between interethnic tensions, opportunism of the oil mafia, interests of multinational oil companies and the government's efforts to maintain peace in the area, I hope to shine a light on the Niger Delta crises that endanger Nigeria today," Nwaka said.
For more information, visit http://tnwaka.com.
Lords of the Creek
By Tony Nwaka
ISBN: 978-1-5049-5025-1
Available in hardcover, softcover and e-book
Available on Amazon, Barnes & Noble and AuthorHouse
About the author
Tony Nwaka is a public policy consultant in the Niger Delta region of Nigeria. He has a bachelor's degree in history from the University of Lagos, as well as master's and doctorate degrees in social and political history from Nnamdi Azikiwe University. His studies focused on youth restiveness, ethnic conflicts and government policies in the Niger Delta. Nwaka has served in several prominent governmental positions within the region, including mayor.
# # #
**FOR IMMEDIATE RELEASE**
For review copies or interview requests, contact:
Jennifer Uebelhack
317.602.7137
juebelhack(at)bohlsengroup.com