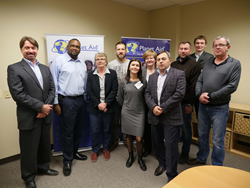 Elkridge, MD (PRWEB) December 11, 2015
Non-profit organization Planet Aid met with a delegation of Russian recycling leaders at their Elkridge, MD headquarters to share best practices and talk about the global market for used clothing. The story was featured on the pages of leading trade publication Waste 360 in an article titled "Russian Pros are Learning from U.S. Waste & Recycling Techniques."
As a worldwide leader in textile recycling, Planet Aid has long been a valuable resource for those interested in advancing the recycling industry. The delegation, referred to Planet Aid by the U.S. State department, was able to tour the organization's 52,000-square-foot warehouse and sorting facility where a hundred million pounds of textiles are being collected and recycled by Planet Aid each year.
"We were highly honored by this," said Planet Aid Communications Director John Nagiecki. "We were very happy to give them their introduction to what we feel is a very important part of recycling in the United States, and one that's been neglected and that we're trying to make more progress in."
The seven-person delegation was comprised of established and emerging leaders of Russia's waste and recycling industry. While touring Planet Aid's facilities, the delegates asked numerous questions about various operational aspects, including Planet Aid's iconic yellow collection bins that the organization employs to make recycling as convenient and accessible to the public as possible.
For more information, including photos and interview from the Russian "Zero-Waste" delegation, read Planet Aid's blog.
To learn more about Planet Aid, its important environmental mission and numerous charitable initiatives and international development projects around the world, visit http://www.planetaid.org.
About Planet Aid
Planet Aid is a U.S. 501 (c)(3) nonprofit and is registered with USAID as a private voluntary organization. It collects and recycles used clothing and shoes as part of its environmental mission. The net proceeds from its 23-state recycling operation help to support an international aid and development mission. Since its inception in 1997, Planet Aid has provided more than $100 million to support international aid and development on three continents.