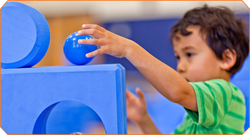 We love hearing about how the Big Blue Blocks will be used on their playgrounds to promote learning through play—that's why we do what we do!
New York, NY (PRWEB) December 15, 2015
Imagination Playground, LLC, http://www.imaginationplayground.com, creators of the breakthrough play space concept that encourages child-directed, unstructured free play, announced today that they are extending their unprecedented offer through January 4, 2016, to help bring Imagination Playground to schools and family centers around the world. The move was made at the request of schools that wanted more time to collaborate with decision makers within their systems.
Late in November, Dave Krishock, President & CEO of Imagination Playground, announced a gift of support to hundreds of schools that wanted to employ the play power of Imagination Playground, but were not able to do so due to lack of funding. The gift was made in the form of a large discount available for a very short time in order to help get more children playing—and achieve the company's play goals to get 2 million more children, 4 million more parents, and 6 million more teachers playing in 2015.
That mission, at the heart of Imagination Playground's plan, means helping children, ages 2 to 9, become more involved in purposeful, child-directed play—and adults to become more aware of and engaged in the developmental benefits of play. Over the course of the year, Imagination Playground was contacted by hundreds of schools inquiring about how they could find support to bring the block sets to their schools. The gift was created to support those requests, along with advice about community fundraising and engagement.
Once the offer had been communicated, over 129 schools and organizations had taken advantage of the offer in the first two weeks.
"We are thrilled that we have been able to help these schools and organizations bring the benefits of Imagination Playground to the children they serve. And we love hearing about how the Big Blue Blocks will be used on their playgrounds to promote learning through play—that's why we do what we do," shared Krishock.
Sharing their excitement about the support and the play benefits of Imagination Playground, Stephanie Molina from Southwest Child Care Early Learning Centers, Albuquerque, New Mexico, said, "We are so excited to add another dimension to our children's outside play experiences. As you know, block play provides so many educational benefits for children, and extending block play to the outdoors enhances our early childhood educational programming."
Dr. Polk, Principal at Perry Elementary in Huntington Beach, California, shared, "The current promotion from Imagination Playground enabled our school to be able to purchase the Big Block set for our students. We are so excited for the blocks to arrive—our school has a Science Technology, Engineering, and Mathematics (STEM) focus and we are eager for our students to be able to engineer, build, and to create utilizing the big Imagination Playground blocks (and the Imagination Playground app)! A huge thank you for creating such an amazing product and for the discount that made it possible for us to purchase this product!"
Portia Moore, Director at STEM Preschool, Arlington, Virginia, also reflected on the offer and the benefits of Imagination Playground within their environment by saying, "The children at STEM Preschool LOVE the Imagination Playground Big Blue Blocks. We have an indoor playground we use when it is raining or snowing outside and the children love building and exploring with these blocks, just as much as they enjoy playing outside. We are expanding, which means more blocks! The 25% off saved us money which we can use for other school resources."
And from Dmitriy Shevchenko of Sunshine Academy, Flagler Beach, Florida, "We are excited about receiving our Big Blue Blocks. We feel that with cooperative outdoor play, our program will benefit from meaningful gross motor activities for years to come."
The offer has been extended through January 4, 2016 only and is not available through the online Block Shop.
To learn more about Imagination Playground, visit http://www.imaginationplayground.com/index.html.
To contact Imagination Playground with questions about the program, reach out to contactus(at)imaginationplayground(dot)com or 1-678-604-7466.
About Imagination Playground, LLC
Imagination Playground is a breakthrough play space concept developed to encourage child-directed, creative free play. The kind of play that experts say is critical to children's intellectual, social, physical and emotional development. Created by architect and designer David Rockwell and the Rockwell Group, Imagination Playground enables children to play, dream, build and explore endless possibilities. Imagination Playground finds its home in daycare centers, kindergartens, elementary schools, children's museums—and science, nature, discovery centers, camps, community centers, children's hospitals, hotels, public parks and more—in North America and over 60 countries overseas. For more information, visit http://www.imaginationplayground.com