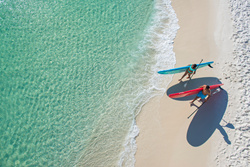 Pensacola, Florida (PRWEB) December 15, 2015
Once Thanksgiving and Christmas have come and gone, many people are left with messy houses, pants that don't fit and a bad case of the post-holiday blues. Sometimes, the best antidote for the winter woes is a trip to somewhere warm and sunny.
The Pensacola Bay Area, located on Florida's Northern Gulf Coast, is home to miles of pristine, sugar-white beaches and turquoise water — not to mention plenty of fresh, healthy seafood and tons of fun outdoor activities that will inspire visitors to get up and get moving.
Exercise in the Pensacola Bay Area
The Pensacola Bay Area boasts some of the world's whitest beaches. Just this year, Gulf Islands National Seashore was voted the best beach in the state by visitors to http://www.tripadvisor.com. The region's picturesque beaches offer the perfect backdrop for an early morning jog, hike or bike ride.
Visitors will also find ample opportunities to participate in Pilates, hot yoga, a round of golf at Lost Key on Perdido Key or a climb and hike through Big Lagoon State Park. For a more coastal experience, visitors can try their hand at paddleboarding, surfing or playing a game of volleyball on the beach.
Relaxation in the Pensacola Bay Area
Rocking back and forth on a Condor boating adventure, writing New Year's resolutions while sailing, or simply soaking in the sun are just a few examples of relaxing experiences the Pensacola Bay Area provides.
Visitors can unwind while viewing boats gliding over the green water, birdwatching along the Footprints in the Sand Eco-Trail or watching the sun rise or set over the gleaming Gulf of Mexico. For an even more relaxing experience, visitors can book a massage or facial at one of the area's many day spas or sample a Bushwacker, Pensacola's signature frozen cocktail.
Healthy Eats and Treats in the Pensacola Bay Area
In addition to its sugar-white beaches, Pensacola is renowned for its unique brand of coastal cuisine, which draws on the city's colonial roots and proximity to the teeming fisheries of the Gulf of Mexico.
One of the best places to sample this bounty is Joe Patti's Seafood Market. The iconic market, founded by Sicilian immigrants in the early 20th century, sells all manner of seafood — from fresh grouper and snapper to shrimp and oysters.
For those not inclined to cook, Downtown Pensacola and the coastal communities of Perdido Key and Pensacola Beach boast many award-winning restaurants that serve up their own takes on Gulf Coast cuisine.
The health conscious and hungry will find more than fresh seafood, though. Locals rave over the selection of sushi at Nom and the Pho — a type of noodle soup native to Vietnam — at Khon's, both located on Palafox Street, in Downtown Pensacola. So Chopped and Carmen's Lunch Bar are also favorites.
For those with a post-dinner sweet tooth, specialty stores like Dolce and Ever'man Natural Foods offer handmade gelatos, juices, smoothies and low calorie, organic treats. Wild Roots Organic Foods on Pensacola Beach offers the Gulf Coast's first organic, gluten-free, and grain-free bakery and popular, homemade artisan popsicles known as BeachPops.
For more information on accommodations and things to do, call Visit Pensacola at (800) 874-1234 or visit http://www.visitpensacola.com.
##
About Visit Pensacola
Visit Pensacola leads the effort of economic development through tourism in Escambia County. Comprised of over 200-member businesses, Visit Pensacola's mission is to position the Pensacola Bay Area as a premier year-round travel destination through tourism marketing, communications, meetings and conventions, reunions and group tour initiatives. For more information about Visit Pensacola, call 1-800-874-1234 (toll-free) or go to VisitPensacola.com.