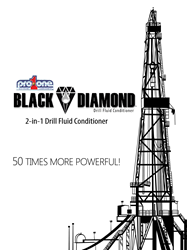 "The technologies we offer our customers help solve drilling problems in the most cost-effective environmentally friendly way possible." - Elton Alderman/President
Houston, TX (PRWEB) December 13, 2015
BLACK DIAMONDTM Drill Fluid Conditioner is a 2-in-1 product that combines ProOne's exclusive XPL+® lubrication with technology that coats open holes with a thin, tough wallcake to prevent seepage and circulation loss.
BLACK DIAMOND essentially replaces or reduces the need for High-Pressure Lubricants, Shale Inhibitors, Shale Stabilizers, Wallcake Enhancers, HPHT Fluid Loss Control additives, and Asphalts, all of which are widely used in drilling.
"We are continuing to expand ProOne's product line with innovative and effective technology for the oil industry," said Elton Alderman, CEO of ProOne, adding "The technologies we offer our customers help solve drilling problems in the most cost-effective environmentally friendly way possible."
In both laboratory and field testing, BLACK DIAMOND has proven to be highly effective. The product was successfully used in a recently completed well in the Permian Basin and demonstrated outstanding performance even when used at low levels.
Additionally, BLACK DIAMOND is plant-based and environmentally friendly, allowing operators to switch from oil-based muds to less expensive water-based muds.
The product is available nationally through leading oilfield supply and oil service companies listed on ProOne's website.
About ProOne:
Based in Houston, Texas and offices in Orange County California, ProOne, Inc. (ProOne), the operating division of ProOne Holdings, Inc., is in the business of developing and marketing high-performance, cost-effective lubricants and fuel products for the oil and gas industry and commercial and industrial customers. ProOne has developed proprietary breakthrough lubrication technology with applications for oil drilling, manufacturing, mining and transportation. The product line includes biodegradable downhole drilling fluid treatments and lubricants, greases, cutting oils, spray lubricants, engine, transmission & hydraulic treatments, and fuel additives that have been tested and certified by leading testing laboratories and proven in the real world. For additional information on ProOne visit http://www.pro1energy.com
Statements contained in this news release, aside from those identifying historical facts, are 'forward looking statements' within the meaning of Section 21E of the Securities Exchange Act of 1934 and the Safe Harbor provisions as contained in the Private Securities Litigation Reform Act of 1995. Such forward-looking statements relating to the Company's future expectations, including but not limited to revenues and earnings, technology efficacy, strategies and plans, are subject to safe harbors protection. Actual company results and performance may be materially different from any future results, performance, strategies, plans, or achievements that may be expressed or implied by any such forward-looking statements. The Company disclaims any obligation to update or revise any forward-looking statements.
Contact:
Corporate: Lawrence Kahn, COO
ProOne, Inc.
Texas: (832) 516-6700 California: (714) 327-0262
Email: LKahn(at)pro-one(dot)us