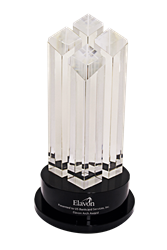 City of Industry, CA (PRWEB) December 14, 2015
US Bankcard Services, Inc. (USBSI) continues its dominance at the 2015 Elavon Awards Conference held in Fort Meyers, Florida by winning the Elavon Arch award for the sixth year in a row. Along with the Arch Award, USBSI receives following Top Producer awards: 1st place in Highest Activation Account in the West Coast Region as a First Day Deposit (FDD) Producer, 2nd place in Overall Channel as a FDD Producer, and 3rd place in Overall Channel as a Portfolio Producer.
USBSI is proud to be a six-time Arch award winner, and the only Merchant Service Provider (MSP) to receive this special recognition for all six years it has been presented. The Elavon Arch award presents annually to MSPs who have surpassed 1.5 billion dollars in transaction volume. USBSI also achieves the highest number of new accounts out of all Elavon MSPs on the West Coast, thus winning the West Coast Region FDD Top Producer award. USBSI ranks third in Overall Channel Top Portfolio Producer award among Elavon's 250+ MSPs in the United States .
USBSI would like to take this opportunity and extend our gratitude toward all of our merchants and business partners who have made it possible for these exceptional accomplishments. Your recognition, along with this year's awards presented by Elavon, reminds us once again how important it is to excel the service we provide to businesses nationwide. USBSI looks forward to being able to serve, partner, and grow with its merchants and local communities in the upcoming year of 2016 and beyond.
About US Bankcard Services, Inc.
US Bankcard Services, Inc. is a top rated MSP that offers competitive rates, incredible customer service support, and cutting edge technology in credit card processing service. USBSI offers a wide array of value-added services, including sure3 online turn-key solutions, gift card services, check guarantee, PCI-DSS compliance consultancy, and 24-7 multilingual customer service and technical support. US Bankcard Services, Inc. is a registered MSP/ ISO of Elavon, Inc. Georgia
For more information about merchant bankcard services please visit us at usbsi.com or call us at: 1-888-525-8558.