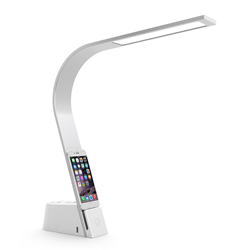 Santa Barbara, CA (PRWEB) December 16, 2015
Mighty Bright, designer and manufacturer of innovative LED lighting products, is pleased to announce the LUX Brooklyn AC LED Task Light has been recognized by Interior Design as one of the best products of 2015. The streamlined and modern Brooklyn was awarded the prestigious Best of Year Honoree award after being selected as a finalist by interior designers and architects.
"The Brooklyn's most recent accolade cements the light as an indispensable accessory," said Michelle Haas, Marketing Manager. "Among thousands of submissions, the Brooklyn's ingenious design and significant functionality undeniably fill a void." There were over 1,800 submissions in the 10th annual Best of Year awards, and nearly 60,000 votes were cast for products and projects by the A+D community. The LUX Brooklyn AC LED Task Light was recognized for its exquisite, sophisticated form and revolutionary functionality. Designed for the hospitality industry and appealing to interior designers, architects, and facility managers across all industries, the LUX Brooklyn AC features two universal outlets and two USB ports in its base. No longer will users have to hunt for country-specific adapters when traveling; the Brooklyn's universal outlets are compatible with all prong configurations. The Brooklyn casts 450 lumens of warm white light from its energy-efficient LED light panel. The touch-activated Brooklyn has three brightness levels for maximum illumination flexibility, and it never requires a replacement bulb.
LUX LED Lights by Mighty Bright is the contemporary solution for task lighting. Utility and design are paramount for LUX LED Lights — fit a LUX Light into any space for an exquisite focal point or to brighten a dark corner. High performing LUX LED task lights reduce energy usage while enhancing spaces with exceptional style. Streamlined and sophisticated, LUX LED Lights are functional, eco-friendly and embody a simple aesthetic elegance, compromising neither form nor function.
About Mighty Bright
Behind every LUX LED Light, you'll find Mighty Bright, designers and manufacturers of high quality LED lights. Since 1985, Mighty Bright has blended ease of use and affordability with impressive functionality, durability and portability. Our LED lights make reading, writing, working, and day-to-day life easier.
We have taken our years of LED expertise and applied them to the LUX line to produce the most fashionable and energy-efficient LED lights for home and office on the market. And since LEDs provide thousands of hours of light, each purchase of a LUX Light is earth friendly. Contact Mighty Bright: 800.922.3233 or visit http://www.lux-led-lights.com.