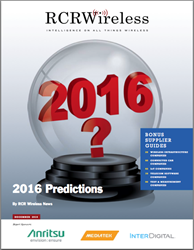 The rapid growth of smartphones is probably going to peak this year, because half of the population almost is getting left behind. - Roger Entner, Recon Analytics
Austin, Texas (PRWEB) December 14, 2015
As wireless companies finalize budgets and identify priorities for the year ahead, RCR Wireless News offers actionable insight on market trends in VoLTE, 5G and more with its 2016 Predictions feature report and complimentary webinar.
The feature report shares the forecasts of analysts and executives in seven key areas: VoLTE/VoWi-Fi, LTE-U, 5G, IoT, RAN sharing, virtualization and policy. The year ahead is seen as an evolutionary versus a transformative year for wireless, according to report editor Kelly Hill of RCR Wireless. However, important shifts are underway in the wireless industry.
Smartphone sales could decline for the first time next year, according to analyst Roger Entner of Recon Analytics, who foresees the average device upgrade cycle lengthening to about 28 months next year. This is significant not only to wireless carriers, who are increasingly reliant on device upgrades to fuel revenue growth, but also to consumers.
"Almost half of the population is getting left behind," said Entner, a panelist on the 2016 Predictions Webinar. "The market for phones has basically bifurcated where you have 45- 48% of the population upgrading every year and maybe 5-10% on the three year time frame, and everybody else waits until the phone breaks, and that is a very transformative event." Entner said that many phones in use today will be unable to take advantage of the newest wireless technologies like voice-over-LTE.
"VoLTE has become nationwide at almost every wireless carrier and we're about to see interoperability come," he said. "We suddenly have a much better connection, but that only works if you have a newer phone." Entner stressed that 3G smartphones and even feature phones remain entrenched, even as LTE proliferates. LTE's proliferation may extend to unlicensed spectrum in 2016.
The RCR Wireless News 2016 Predictions feature report outlines and explains the following:

LTE-U (LTE in unlicensed spectrum)
LAA (license-assisted access)
LWA (LTE Wi-Fi aggregation)
You will learn about the following topics in both the feature report and webinar:

5G standards
IoT standards and opportunities
virtualization
net neutrality
wireless spectrum
wireless hiring trends
Representatives from AT&T, T-Mobile US, Nokia, Alcatel-Lucent, InterDigital, Sonus Networks, 4G Americas, Anritsu, CommScope, Keysight Technologies, Sigfox, Cisco, Velocitel, Senza Fili Consulting, JMA Wireless, ADRF, Signals Research, Rohde & Schwarz, TelForce Group, the Wi-Fi Alliance, Kineticom, Telecom Connections, Silicon Labs, Beecham Research, and Hogan Lovells also share their perspectives.
Download the complimentary report and webinar to learn more.
About RCR Wireless News
Since 1982, RCR Wireless News has been providing wireless and mobile industry news, insights, and analysis to industry and enterprise professionals, decision makers, policy makers, analysts and investors. Our mission is to connect, globally and locally, mobile technology professionals and companies online, in person, and now on video. Our dedication to editorial excellence coupled with one of the industry's most comprehensive industry databases and digital networks leads readers and advertisers to consistently choose RCR Wireless News over other industry publications. http://www.rcrwireless.com