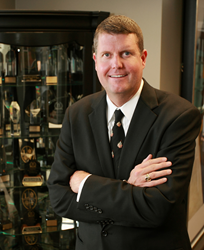 Clarksville, MD (PRWEB) December 22, 2015
Creig Northrop, president and CEO of the Creig Northrop Team of Long & Foster Real Estate, joined the board of directors for the University System of Maryland Foundation, which advocates and supports the advancement of public higher education in Maryland through philanthropy, asset management and stewardship.
"Education means opportunity and opportunity is crucial for Maryland and its communities," said Northrop, who graduated from the University of Maryland in College Park. "I can't think of a better way to support higher education in Maryland than serving on the foundation's board."
For more than 10 years, Northrop has led the top producing Long & Foster Real Estate team in the nation. The Northrop Team ranks No. 4 by volume in the United States and No. 1 by volume and transactions in the team's home state of Maryland among all brokerages, according to REAL Trends and the Wall Street Journal.
Among Northrop's honors, he was named to The Daily Record's 2015 list of Influential Marylanders for his contributions to his field and leadership in Maryland. He also received the Billionaires Club award in 2014 from Who's Who in Luxury Real Estate, which recognizes agents who have sold at least $1 billion in real estate sales. Northrop was the youngest agent ever to receive the award.
The Creig Northrop Team of Long & Foster Real Estate is the No. 1 real estate team in Maryland for all brokerages.* They represent buyers and sellers of residential real estate in the Baltimore and Washington metropolitan regions with offices in Annapolis, Clarksville, Sykesville, Rockville and Lutherville-Timonium, Maryland. Creig Northrop has 25 years of experience in real estate and leads a team of more than 85 licensed real estate professionals. Long & Foster Real Estate is the largest independent residential real estate company in the United States and the No. 1 seller of luxury homes in the Mid-Atlantic region.** (http://www.northropteam.com; 410-531-0321)
*By volume and transactions according to the Wall Street Journal & REAL Trends since 2006
**Luxury Portfolio International and Christie's International Real Estate