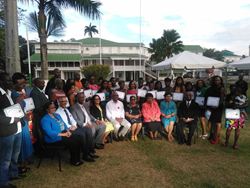 Provo, Utah (PRWEB) December 15, 2015
Interweave Solutions was recently announced to be the head of the national self-reliance initiative by Guyana First Lady Sandra Granger at a special graduation ceremony held at the historic Guyana State House (presidential palace). Her husband, recently elected President David Granger - joined by six national cabinet ministers - highlighted her announcement with a ceremony honoring graduates of two Interweave self-reliance groups.
Like the graduates of these two pilot groups, participants of the national initiative are women who have lacked opportunities for education and income. During 2016 and beyond, Interweave staff in Guyana will organize and train similar self- reliance group leaders and members in all 10 regions of the country.
"This initiative will reduce poverty as it helps advance the confidence and capacity of women and their families throughout Guyana," declared Mrs. Granger.
Guyana Interweave Director, Wayne Borrow, explained that the First Lady's initiative will use Interweave's unique Success in Business and ABC's of Business training and materials to advance basic education and economic empowerment. Barrow noted that the initiative will enable thousands of households within poorer neighborhoods and villages "to increase income and work together to solve home and neighborhood problems."
The two graduating groups who started this initiative came from the communities of Good Hope and Linden where they organized a major road cleanup project with neighborhood volunteers from every home for several blocks and collected 75 bags of garbage. The groups also worked with local Water Department officials to restore water to more than 100 homes that hadn't had water for the last four years.
Participant Dawn Williams summarized the experience of her fellow Interweave graduates. "We started our own businesses and we made our neighborhood a lot better." Several participants at the President's ceremony emotionally added that this was the first time they have ever graduated from anything in their lives.