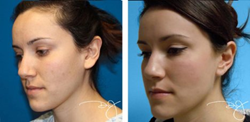 Today's young people see nothing particularly fraught in obtaining a anything from buttock or breast augmentation to rhinoplasty,
Beverly Hills, California (PRWEB) December 14, 2015
A December 8 article on the CBS Philly web site reports a notable and relatively rapid increase in the number of plastic surgery patients in their twenties, from 5 percent in 2013 to 10 percent this year. Beverly Hills-based plastic surgeon Payam Jarrah-Nejad, M.D., F.I.C.S., F.A.C.S., known more casually to his patients simply as Dr. J, has worked with a great many patients in the millennial age cohort, and he notes that the report is in line with what he is seeing at his office.
Dr. J notes that plastic surgery is becoming more and more socially accepted by people of all ages, and younger people have traditionally been at the forefront of changing attitudes, so it makes sense that many younger adults are not waiting until their middle years to maximize their appearance. While there is still a tendency, most often expressed on tabloid web sites, to imply that there is something somehow morally questionable or selfish about getting a plastic surgery, Dr. J notes that the prevailing social trend is to take a pragmatic approach to plastic surgery as simply one more tool for maximizing a person's appearance.
While not everyone is going to want to obtain plastic surgery procedures, Dr. J suggests that, for those who desire a procedure, it is simply another tactic aimed at looking one's best. Just as few of us see anything wrong with people make an effort to obtain attractive, high-end clothing or special hair and make-up solutions, today's young people see nothing particularly fraught in obtaining a anything from buttock or breast augmentation to rhinoplasty, or even a bit of preemptive facial rejuvenation, notes the plastic surgeon.
People make all kinds of generalizations about the generation now known as millennials, notes Dr. J, and a great many of them are highly misleading and perhaps a bit mean spirited. However, the generation that has grown up alongside the Internet has dropped a great many social prejudices that were once believed to be all but permanent, while also accepting today's highly advanced technology as a given. Dr. J notes that it therefore makes sense that younger people are quick to accept the idea that human efforts can be improved through the help of scientific advances in a host of fields, plastic surgery very definitely included.
Readers who are interested in learning more about the possibilities afforded by plastic surgery can call Dr. J Plastic Surgery at 310-993-3800 or visit http://www.DrJPlasticSurgery.com.