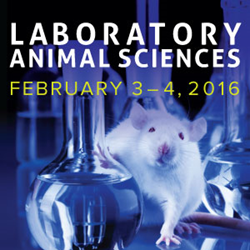 Yorba Linda, CA (PRWEB) December 15, 2015
Join LabRoots for the two-day international Laboratory Animal Science (LAS) virtual conference that will take place on February 3rd and 4th, 2016. This is the premier online-only free conference focused on laboratory animal science. This year's Program Committee led by Dr. Szczepan Baran, Head of Innovative Animal Technologies and Training at Novartis Pharmaceuticals, and composed of over 30 world renowned experts, present the conference theme titled "Optimizing Design, Conduct and Reproducibility of Animal Studies" with the following tracks:
Optimizing Animal Study Designs - This track will include topics about selection of species and models including gender and transgenics, IACUC and ethical review issues, model endpoint issues, creation and review of Animal Use Protocols, experimental design and statistics issues, training challenges.
Optimizing the conduct and implementation of animal studies - This track will include topics about housing, husbandry and environment issues, AAALAC and animal care and use program issues, protocol implementation and monitoring issues including quality assurance and quality control (QA/QC), troubleshooting animal studies, teaching and training to optimize animal handling, humane euthanasia practices.
Optimizing Reproducibility of Animal Studies - This track will include topics addressing the general issue of reproducibility and why it's a problem, specific models, systematic review, reporting of animal studies including positive and negative results, communication of animal research including journal publications, translational challenges from preclinical to clinical.
Lab Animal Sciences will bring together scientists, students, veterinary technicians, veterinarians, technical support staff, IACUC administrators and committee members, as well as training and compliance personnel from around the world to learn about recent advances on the science of animal wellbeing, housing, enrichment and biomethodology. This diverse group of experts produces one, groundbreaking conference, which is absolutely free to all participants. Watch and participate from your office or home, and still be able to attend a first-rate conference with world renowned presentations.
Huw Golledge, PhD - Senior Scientific Programme Manager, Universities Federation for Animal Welfare and the Humane Slaughter Association
Klas Abelson, PhD - Associate Professor, Department of Experimental Medicine, University of Copenhagen
Szczepan Baran, VMD, MS - Head of Innovative Animal Technologies and Training, Novartis Institutes for Biomedical Research
Susan Compton - Research Scientist in Comparative Medicine; Director, Molecular, Serological and Virological Diagnostics, Yale School of Medicine
Jeffrey Everitt, DVM - Director of Comparative Biology and Medicine, GlaxoSmithKline, Adjunct Professor of Pathology, Duke University School of Medicine
Nuno Henrique Franco, PhD - Post-Doc Researcher, i3S (Instituto de Investigação e Inovação em Saúde)
Brianna Gaskill, PhD - Assistant Professor of Animal Welfare, Comparative Pathobiology, Purdue University College of Veterinary Medicine
Javier Guillen, DVM - Senior Director and Director of European Activities, AAALAC International
Carlijn Hooijmans, PhD - Assistant Professor, SYRCLE and Anesthesiology, Radboud University Medical Centre, Nijmegen, Netherlands
Annette O'Connor, BVSc, MVSc, DVSc, FACVSc - Professor of Epidemiology, Iowa State University
Merel Ritskes-Hoitinga, DVM, PhD, Animal Welfare Officer, Dipl ECLAM - Professor, Laboratory Animal Science, Managing Director, Central Animal Laboratory (CDL), Radboud University Medical Center
Ana Maria Valentim, PhD - Post-doctoral Researcher, i3S (Instituto de Investigação e Inovação em Saúde)
Attendees can earn free Continuing Educational Credits. The 2016 conference is approved by the American Association of Veterinary State Boards for Continuing Education for veterinarians and veterinary technicians to receive CE credits, and will also meet AALAS and CALAS continuing education criteria.
For more information about the event, obtaining continuing education credits, and to register, visit the LabRoots website.
Use #LRlas to follow the conversation
About LabRoots:
LabRoots is the leading scientific social networking website and producer of educational virtual events and webinars. Contributing to the advancement of science through content sharing capabilities, LabRoots is a powerful advocate in amplifying global networks and communities. Founded in 2008, LabRoots emphasizes digital innovation in scientific collaboration and learning, and is a primary source for current scientific news, webinars, virtual conferences, and more. LabRoots is the owner and producer of BioConference Live – which has grown into the world's largest series of virtual events within the Life Sciences and Clinical Diagnostics community.