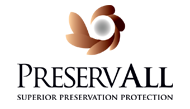 Branchburg, NJ (PRWEB) December 14, 2015
PreservAll (http://www.preservall.com/) has announced that it has unveiled a new website. The company that offers one of the most advanced protective technologies has made their website interactive, fun, and easy to navigate.
"The simple fact is, we offer a very advanced product," says company partner Chris Della Valle. "We wanted to ensure our website reflected this high level of technology and efficiency. To that end, we upgraded our site and added several features."
Features of the new site include a video slide show on the homepage, detailed information blocks about how PreservAll is used across multiple industries, and single-click access to a wealth of information, all accessible in an organized fashion from the main landing page.
"We had a great deal of information that needed to be on our site," he continues. "The challenge was to make sure our clients got all of this information without bogging them down with long, cumbersome copy. Everything is organized onto different pages with clear headings and subheadings so you can easily access the information you need. You don't need to read through how our product protects firearms if you are only interested in how it can protect and preserve a wedding dress."
The new site also features online shopping. A photo of each item sits above an "add to cart" button. Shoppers can move around the different pages with ease, filling their cart with the items that will keep their most treasured belongings protected against mold, mildew, corrosion, rust and tarnish, to name a few. From large storage bags for heirloom quilts to sleeve protectors for rare comic books, pouches for firearms to garment bags for designer clothing, online visitors efficiently find what they need.
"Our site makes return trips easier too," continues Chris. "Shoppers can create an account and simply log in during future visits. Your information is kept private and you don't have to enter your shipping information every time you place an order."
PresevAll is excited to unveil the website to their direct customers and corporate clients, making it easier for them to benefit from the Intercept Technology™ that does not leave deposits on the items it protects. Intercept is not volatile, so it is environmentally friendly. Without releasing any toxins, it absorbs and neutralizes corrosives that break down materials.
For more information, visit https://preservall.com/about_us and https://preservall.com/Shop-Now
About PreservAll
We offer preservation and corrosion prevention packaging and storage products for garments, firearms, documents, quilts/tapestries, hunting and camping equipment, coins, antiques and collectables. Our products use Intercept Technology™, an environmentally friendly technology that does not coat items or leave detectable deposits on items it protects. Intercept is not a VCI (volatile corrosion inhibitor). Intercept is a reactive technology unlike other products that work passively. Intercept absorbs and neutralizes corrosive gasses that lead to corrosion and breakdown of materials such as fabrics, ferrous and non-ferrous metals, stamps, comic books, documents and anything else affected by atmospheric degradation.
Contact Details:
Mr. Chris Della Valle
600 Kenrick Dr., Suite C-40
Houston, TX 77060
Ph: (713) 822-9040
Fax: 908-526-0007
Source: PreservAll
###