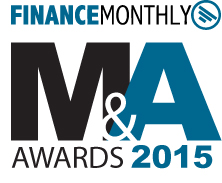 Raleigh, North Carolina (PRWEB) December 14, 2015
High Rock Partners is named Mid-Market M&A Boutique Advisory Firm of the Year 2015 USA by Finance Monthly in its recently published annual M&A Awards. The M&A Awards recognize the achievements of advisory and legal firms that play a crucial role in any merger and acquisition process. Given the complexity and diverse nature of M&A, a range of award categories have been listed in order to give a true reflection of the expertise required for each M&A deal – from due diligence to legal, to tax advisory and corporate finance.
The final list of winners has been published in a special awards publication which will be distributed to the entire readership of Finance Monthly in both digital and print formats. To view the M&A Awards, visit http://mandaawards.finance-monthly.com/2015-winners/
High Rock Partners is a boutique firm of strategic and M&A advisors, located in Raleigh, North Carolina (Research Triangle Park area), serving leaders of emerging growth and middle market companies ...to make key strategic decisions; navigate and execute on transitions of ownership; accelerate growth to the next level; or to reposition the company. They use a unique and proven blend of experiences and tools in strategy, mergers & acquisitions, financing and deals coupled with leadership and creative solutions to achieve your desired outcome. As a firm, their focus is on strategy, exits (selling your business), acquisitions, financing and turnarounds. http://www.HighRockPartners.com
High Rock Partners Managing Partner, Kenneth H Marks, is the lead author of Middle Market M&A: Handbook for Investment Banking and Business Consulting and the Handbook of Financing Growth: Strategies, Capital Structure, and M&A Transactions, both published by John Wiley & Sons in their Finance Series.
Finance Monthly is a global publication delivering news, comment and analysis to those at the centre of the corporate sector. Finance Monthly reports on the news and topics that matter to the CEOs, CFOs, investors, company directors, entrepreneurs, and SMEs that make up our valued readership. We're a multi-platform publication, offering global finance news coverage both online and in digital formats, distributed to 108,717 people each month. http://www.finance-monthly.com/