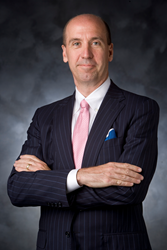 I particularly enjoy speaking at University's because the future is going to be created by the students, educators and administrators I am addressing.
Cincinnati, OH (PRWEB) December 14, 2015
When it comes to unearthing metaphorical hidden gems, futurist Jack Uldrich excels at not just finding the gem, but polishing it up.
Today, Uldrich will present his keynote speech, "Win the Future: The Big AHA" at a major Midwestern University long considered to be a hidden gem. The University is preparing to unveil a new strategic plan and Uldrich will help them define their goals and set the plan in action.
AHA is Uldrich's acronym for awareness, humility and action, all of which Uldrich says "are necessary to embrace change and implement strategic planning."
"There are certain strategies that have been taken for granted when it comes to running an educational institution. The world of education has changed quite radically. It's time to create a new map, and new ways of thinking about how to navigate that map. Implementing new strategic plans for the future, that include the exponential growth of technology as a typical landmark, is crucial."
Uldrich often focuses on the emerging technological trends as transformative 'landmarks', including wearable technology, 3-D printing, gene sequencing, robotics, nanotechnology and more. "The kind of change required by these new technologies requires humility and demands action."
Uldrich's latest article Here Comes the Future: 10 Game-Changers That Will Transform the World in 2016 features blockchain, nano-steel and deep-learning among other trends that Uldrich says, "are poised to change the game in virtually every business sector in the coming year."
Before launching his career as a futurist and best selling author, Uldrich served as a naval intelligence officer and Defense Department official. He also served as the Director of the Minnesota Office of Strategic and Long Range Planning under Governor Jesse Ventura.
Uldrich's presentation today, "Win the Future: The Big AHA" provides scenarios that spell out what the world may look like in just a few short years and provide an in-depth exploration of how the "Internet of Things" and robotics, gaming dynamics and artificial intelligence will change everyday life for everyone involved in higher education.
Highly acclaimed for his keynotes, a crowd of close to 750 attended his talk, "The Big AHA", in October at Morehead University in Kentucky. He delivered the speech as part of the President's Performing Arts and Speakers Program.
Uldrich speaks over 100 times a year and collaborates with clients in advance to deliver tailored remarks that will educate, entertain and inspire his audiences. He speaks to organizations and educational institutions worldwide, especially on the transformation of health care, agriculture, energy, retail, education, and manufacturing.
While Uldrich is says he cannot predict the future, he does however speculate upon it. Another recent article he wrote features his tongue in cheek predictions for 2016.
When it comes to the strategic planning session planned for today, Uldrich says the school "is a hidden treasure and this sessions is about developing a map for everyone to find it."