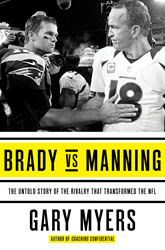 A definitive inside account of the greatest rivalry in NFL history
NEW YORK, NY (PRWEB) December 14, 2015
Need a "Stocking Stuffer" idea for the avid football fan, check out NY Times Bestseller "Brady vs. Manning: The Untold Story of the Rival That Transformed the NFL" (Crown-Archetype) by NFL Veteran correspondent Gary Myers, invites readers to an eye-opening look inside the real story behind two of the greatest NFL QBs of all-time, and provides them with the most definitive account of the greatest rivalry in NFL history. In this extraordinary book, he examines in remarkable detail the professional dynamics and evolution of both Tom Brady and Peyton Manning.
Fierce rivals every step of the way, their epic duels have not only ranked among the best and most exciting games ever played, but have fundamentally shaped the lives and careers of both men. Yet for all their shared brilliance, they are a study in contrasts. Tom is the underdog turned ultimate winner, an unheralded draft pick who went on to win a miraculous Super Bowl and become the leader of one of the NFL's greatest dynasties. Meanwhile, Peyton was born into NFL royalty and faced a mountain of outsize expectations yet somehow lived up to and exceeded all the hype, claiming virtually every passing record along his path to football immortality.
With Peyton's future in question, how will their contrast in greatness––between the overachieving underdog and the crown prince of football, between postseason brilliance and statistical dominance––that has served as an endless source of fascination for fans and media, and over the years, as the two players have faced off again and again in classic games eventually impact the ongoing argument that has intensified over time? There has never been a definitive treatment of the debate that tells the real story of these two rivals, until now.
Through exclusive interviews with Archie Manning, Tom Brady, Sr., Roger Goodell, Bill Parcells, Drew Bledsoe, Michael Strahan, Lloyd Carr and others in addition to unlimited access and insight, Myers has examined the subject from every angle.
Drawing on never-before-published interviews with Brady and Manning, their coaches, their families, and those who have played with them and against them, the result is a remarkable collection of revealing and entertaining stories ever told about Peyton and Tom.
Who could have foreseen two of the greatest NFL quarterbacks and rivals in NFL history ultimately becoming eminent and respected friends. In conclusion Myers says, "Manning is the best regular season player in NFL history, but Brady is the best QB in NFL history. The difference obviously is the post-season."
Bob Costas, NBC Sports says, "Myers has taken on one of football's most compelling and ongoing debates. With decades of experience covering and reporting on the NFL, he is one of the sports' most respectable and credible writers who brings exceptional insight."
Readers will come to their own conclusions, but as Mike Tirico, ESPN's Monday Night Football says, "Gary's unique relationships with the biggest names in the game make him the perfect person to tell the intertwined story of these NFL legends."
Books are available online and in bookstores
About the Author
Gary Myers has covered the NFL for more than three decades. He is currently a football columnist for the New York Daily News. Myers is the author of The Catch and Coaching Confidential.
# # #