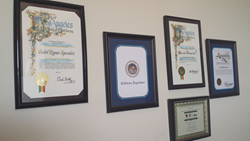 Reading Mr. Eghbali's user-friendly and comprehensive Credit Repair Book "Build Better Credit to Build a Better Life" is a big step towards repairing credit health and living a life free of debts .
Los Angeles, CA (PRWEB) December 15, 2015
These serve as an appreciation for the company's achievements in the field of credit repair along with its ability to provide outstanding service to its customers. These are evidence that the company is working hard in helping the community achieve financial stability through their smart financial and credit repair programs. Their multi-faceted programs for wealth management have made a huge difference in the lives of many clients and will continue to do so for the following years.
Enrich Financial uses a unique approach to help their clients. Their strategy centers on client education on the many aspects of personal finances with a special focus on increase their cash flow, smart practices to get out of debt, strategies on how to create an emergency fund, building savings and retaining their properties or estates. This is not a one-time process but rather a continuous one that assists clients to avoid bankruptcy, manage late payments, get out of unhealthy debt situations and overcome all the possible hindrance to achieve good credit.
More information about Enrich Financial may be found at http://www.enrichfin.com .
Enrich Financial is a credit repair firm founded by Arian Eghbali to deliver sound, professional credit repair services for customers that are faced with financial trouble. Serving Tarzana, CA for many fruitful years, it is a proud member of the Valley Chamber of Commerce.
"Receiving recognition these three principal entities in the state is an honor for Enrich Financial. Arian Eghbali ~ CEO"
For more information about Enrich Financial, fill out a form at: http://www.enrichfin.net .