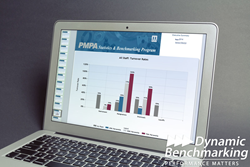 We wanted a simpler, less manual process and we found that, and more, with Dynamic Benchmarking.
Windham, NH (PRWEB) December 15, 2015
Dynamic Benchmarking, a provider of customized online benchmarking and reporting solutions, is pleased to announce the launch of a new, interactive survey and data reporting tool for use by the Powder Metallurgy Parts Association (PMPA), an association underneath the umbrella of the Metal Powder Industries Federation (MPIF). The web-based platform modernizes a long-standing financial performance study to better serve the needs of individual members and the industry as a whole by simplifying data collection, analysis and reporting.
Made up of six, unique trade associations, MPIF represents the world's leading suppliers of metal powders, powder metallurgy (PM) parts and products, and processing equipment. MPIF selected Dynamic Benchmarking to automate the data collection and analysis process for the PMPA Annual Financial Performance Survey. Conducted by, and targeted to the members of PMPA, this comprehensive study collects financial, operational, injury and illness, compensation and sustainability data from PMPA members. The survey and its resulting reports have been longstanding member benefits for over 25 years.
"The Annual Financial Performance Survey has long been an integral part of the PMPA value proposition," says Jim Dale, Vice President of Member and Industry Relations for MPIF. "In recent years, member involvement has far surpassed simple participation and grown into an industry partnership where member input has extended into the continued improvement of the study."
Prior to the Dynamic Benchmarking platform, the study was conducted via email with data consolidated and manipulated using spreadsheets to create a series of static reports and graphs that were distributed to members on disks. While comprehensive, the process was daunting and time consuming and the ability to provide customized reports was not feasible.
"We wanted a simpler, less manual process and we found that, and more, with Dynamic Benchmarking," continues Dale. "We're hopeful that once our members experience how simple and robust this program is, participation in the study will increase."
In addition to collecting data for fiscal year 2014, the new benchmarking platform will archive previous years' data securely online, offering members the added benefit of on-demand access to that information.
"Not only will our members be able to easily perform year over year trend analyses, I'll finally be able to clean out those filing cabinets," adds Dale. "Dynamic Benchmarking has allowed us to significantly improve our benchmarking process in every way imaginable."
>> About the Metal Powder Industries Federation (MPIF)
The Metal Powder Industries Federation (MPIF) is a not-for-profit association formed by the Powder Metallurgy (PM) industry to advance the interests of the metal powder producing and consuming industries. As its name states, it is a federation of trade associations—six in all—that are concerned with some aspect of powder metallurgy, metal powders, or particulate materials. Throughout its long and distinguished history, MPIF has been a stalwart champion of this innovative technology, providing its member companies with a long list of services that help advance the art and science of PM while promoting its benefits to prospective end users. For more information, please visit http://www.mpif.org.
>> About Dynamic Benchmarking
Dynamic Benchmarking is a New Hampshire-based startup that delivers real-time benchmarking and data analysis solutions with the features and capabilities of custom software in a format that is easy to use and quick to deploy. Founded by a team of women entrepreneurs, Dynamic Benchmarking combines powerful, web-based technology with unparalleled industry expertise and customer care to provide best-in-class, peer-to-peer data comparison for small business, associations, large enterprises and any organization looking to tap into the knowledge of the crowd. Dynamic Benchmarking builds web-based solutions that are flexible, scalable and allow for meaningful comparison of financial and operational performance in a dynamic and interactive manner. For more information, please visit http://www.dynamicbenchmarking.com.