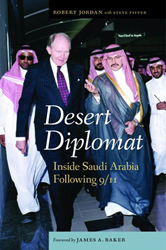 What better time than now to be inspired by a great book
NEW YORK, NY (PRWEB) December 15, 2015
Announcing new book releases that make great "Holiday Stocking Stuffers" for the avid reader. What better time than now to discover new books on history, sports, politics, law, international & world affairs, true crime, thrillers, finance, architecture, or self-help. After all, books are the best gifts of all.
History enthusiasts with interest in the Middle East, will be captivated with bestseller "Desert Diplomat: Inside Saudi Arabia Following 9/11" (Potomac Books) by former US Ambassador to Saudi Arabia and Middle East expert, Robert W. Jordan, who invites readers to a front row seat to history as he takes them inside the inner workings of American Diplomacy. A frequent commentator on international media including Fox News, Fox Business, MSNBC, CNN, Bloomberg News, AL Jazeera America and Charlie Rose, he offers valuable insight into the crisis we are facing with ISIS, Syria, Russia, and Saudi Arabia.
What's the real story behind the "Battle of Benghazi?" NY Times bestseller "13 Hours: The Inside Account of What Really Happened in Benghazi"(Twelve Books; Reissue edition) by Mitchell Zuckoff and Annex Security Team, invites readers to experience the action in this page-turning thriller. Soon to be a movie releasing: January 15, 2016.
Law students considering criminal defense law, and practicing prosecutors will be mesmerized with "Fundraiser A: My Fight For Freedom and Justice"(Northern Illinois University Press) by Robert Blagojevich, brother of Rod Blagojevich, the ill-fated former governor of Illinois, who invites readers to an eye-opening look inside his personal journey through his eyes and in his shoes as he recounts his wrongful indictment charges, the gut-wrench events that followed, and his ultimate release when all charges were dropped. Recognized by the NACDL "The Champion" for bringing a client perspective to the forefront, this book offers valuable insight that all lawyers should heed.
NFL football fans will devour NY Times bestseller "Brady vs. Manning: The Untold Story of the Rivalry that Transformed the NFL"(Crown-Archetype) by NFL Veteran correspondent Gary Myers, one of the sport's most respected and credible writers who brings exceptional insight with his take on one of football's most compelling and ongoing debates in NFL history.
"Is This Seat Taken: It's Never Too Late to Find the Right Seat" (Greenleaf Book Group Press) by Kristin S. Kaufman, founder of Alignment, Inc.,® and the second in her "Is This Seat Taken" book series, offers practical advice to people who have reached a professional, or personal crossroads in life. For anyone wondering what to do next, she instills them with wisdom and insight infusing them with the confidence to trust in second chances. Checkout her first book "Is This Seat Taken: Random Encounters that Change Your Life."
"The Burma Spring: Aung San Suu Kyi and the New Struggle for the Soul of a Nation" (Pegasus Books) by award-winning journalist and former State Department speechwriter Rena Pederson. Lauded by Library Journal as "Engagingly written and intelligently documented."
"Jimmie Lee & James: Two Lives, Two Deaths, and the Movement that Changed America" (Regan Arts) by Steve Fiffer & Adar Cohen reveals the story behind the historic 1965 voting rights march from Selma to Montgomery.
"Building a Timeless House in and Instant Age" by renowned home-builder and designer Brent Hull, invites readers to rethink the way we build homes today, and return to an age when the quality of craftsmanship, style and design were essential.
For young women preparing to embark on the financial roller-coast of life, "Saving is Sexy: Changing the Way Young Women Look at Money" by renowned businesswoman Alice Wood, applies the laws of attraction to personal finance to educate and empower young women - promoting self-confidence through financial security. Wood gives sage and worthwhile consideration to all women seeking financial independence and security for life.
Books are available on amazon.com and bookstores everywhere
# # #