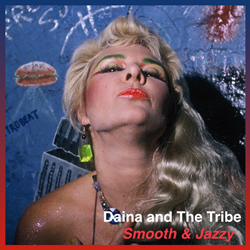 It is an exciting time for me to launch a comeback with old friends and new musical ideas.
(PRWEB) December 14, 2015
Daina Shukis captures the core message in each song she approaches with an inimitable style all her own. Having influences that span from Jazz, rock, funk and country, Shukis brings her originality to the forefront. "Daina and the Tribe" has been her signature band that she has performed with for years back in the New York City area in such notable clubs as the Bottom Line (opening for James Cotton), The Lone Star (opening for Jaco Pastorious) and CBGB's.
For the past few years, Daina has combed through the maze of some of her best performances and has created a vintage catalogue that will live throughout the ages. "The one thing that I remember most about my performances with the Tribe was how the audiences would participate in our performances, with accents of chants and musical praise" says Shukis. On her recently released album "Smooth and Jazzy", which is comprised of her favorites songs, she chose to remix the tune "Movie Show' as her latest single from the compilation giving it a modern slant on today's music scene, creating a new audience that appreciates the blending of these musical styles.
"I am delighted to bring you this album with many cuts from the beginning of the new wave pop art culture in New York City in such a top-grade audio recording. I look forward to performing these songs and new material in the near future with great anticipation. It is an exciting time for me to launch a comeback with old friends and new musical ideas. The older jazz and blues singers still out there on the road are a great inspiration. Wish me luck! says Daina.
More recently, Shukis has incorporated a few songs embracing our American roots with a Patsy Cline tribute into her set, where she shares how Patsy influenced her vocal style by performing originals on guitar and piano at the end of every set. To date, she has produced five albums from her vintage catalogue, one instrumental album, "Mystic Rendezvous" with Daina and the Tribe, on which Daina plays impressionist compositions on synthesizer. Her latest addition to her catalogue is a sure fire compilation that will not only capsulate her eclectic mix of sound but a vintage musical history that stands the test of time. "Smooth and Jazzy" has been picked to be in rotation on her radio station on Pandora and she is ranked #1 in Jazz on Reverberation in Port Richey, Florida.
"Daina is a very unique spirit, known for her love of cultural flare in her writing and performances derived from the Middle East, Greek, Turkish and Arabic music. In her vintage videos you can clearly see how she skillfully executes her choreographic pieces when she took the stage with a serious intention toward excellence in her craft, not only in dance but visually through her authentic costumes that ranged from tribal art painted on her body to classic rock looks. Her vocals stem from a bluesy, rock feel with jazz flavorings and tribal chants, her performance puts you in a trance that takes you on her eclectic improvisational journey of song and percussive presentation" says Jaijai Jackson of The Jazz Network Worldwide.
At this stage in Shukis's career, having so much performance memories in her musical arsenal, she is now presenting a "looking back" journey, story-telling of her many escapades through her New York days with some of the best musicians on the planet. From the likes of Jeremy Steig, Don Alias, Eddie Gomez, Ray Mantilla, Jimmy Madison, Jerome Harris, Paul Ramsey, Dan Wall, Tom Coppolla, Judy Niemack, Marvin Horne, Greg Carter, Butch Campell, Lee Finklestein and Bill Washer who are all performing with her on new release "Smooth and Jazzy". She brings a fervor of heart to her upcoming performance schedule and offering musical memories that only she can tell. This choice of performance once again allows for the new audience to find themselves in her music and to walk away with an impression that will be a memory etched by musical history.
Looking to bring her musical story-telling to worldwide stages, big and small, from intimate to large venues with her musical potpourri will be sure to please the most eclectic of musical tastes from jazz to rock, funk, country and beyond.
Smooth and Jazzy" can be purchased on iTunes (https://itunes.apple.com/us/album/daina-tribe-smooth-jazzy/id1049935515?ls=1) as well as her new remix single of "Movie Show". To learn more go to jazzrockndance.com.
Be sure to check Daina's feature this week at http://www.thejazznetworkworldwide.com as well as the official website of jazzrockndance.com to learn more.
##