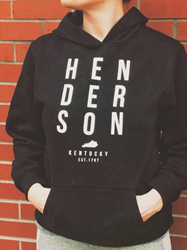 (Henderson, Ky.) (PRWEB) December 14, 2015
For the first time, the Henderson County Tourist Commission is making Henderson County merchandise available for purchase during the holiday season.
The Henderson County Tourist Commission first introduced selling vintage handmade jerseys earlier this year to raise funds and branding awareness to promote Henderson tourism. Since then, dozens of quality items have been made available for purchase through the Tourist Commission, leading up to a line of items that were designed with Christmas shoppers in mind.
Locals can find a variety of apparel items from hooded and crewneck sweatshirts, spirit jerseys - and for a limited time – the original vintage handmade jersey. New collectible items such as shot glasses and the unique can glasses (designed for brewed beverages) make a quality gift set. Shoppers can also save over $20 by purchasing the holiday gift bag – which includes a large canvas tote, a Klean Kanteen coffee tumbler, and a choice between a hooded sweatshirt or sweatpants – all items are branded with a Henderson, Kentucky logo or design.
The Henderson County Tourist Commission is a non-profit organization, and its mission is to promote travel and tourism in Henderson, Kentucky. It is located at the Depot on 101 North Water Street; merchandise can be purchased Monday through Friday from 9:00 a.m. to 5:00 p.m. For more information about seasonal hours, please call 270-826-3128.
###