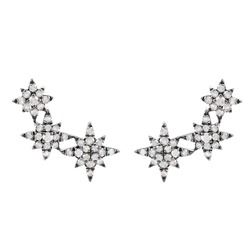 New York, NY (PRWEB) December 14, 2015
Gabriel & Co. will debut a series of sparkling new capsule collections in the bridal and fashion categories for Spring 2016. Proudly prolific, the brand stands behind its "Fine Jewelry Everyday" mantra with an eclectic selection of new styles at (almost) every price point, made for women who wear the best jewelry daily (and nightly). These versatile new collections are handmade with 14K or 18K gold, sterling silver, diamonds and colored gemstones, ranging in both style and splendor, designed exclusively for today's American woman.
Gabriel Bridal: Gabriel & Co. is redefining engaged with a fresh, new array of settings including delicate and bold looks. Featuring intricately set pave diamonds in single and split shank looks, the new Gabriel Bridal collection includes softer settings for new brides and statement pieces designed for married couples who are looking to renew their rings as a symbol of their commitment to one another for years to come.
Shadowplay: Originally launched in 2014, the new Shadowplay collection has been revamped for spring featuring Shadowplay diamonds that sparkle with subtle hues of pale yellow, white and grey. Set in sterling silver, which augments the graphic roughness of the natural color diamonds, the collection is youthful, edgy and accessible with retail prices starting at just $90.
Messier: Inspired by one of the most spectacular star clusters in the night sky, this new collection features diamonds and deep blue sapphires handset in open weave patterns that seemingly suspend diamonds in mid-air, creating a bold look with delicate details.
Sydelle: Designed with a touch a modern minimalism, Sydelle revels in the brilliance of diamonds intricately set in handcrafted 14K or 18K yellow gold, adding a vintage look and feel to contemporary designs. This line was made for a collector of beautiful things that look like they could be from another era, meant to be worn for generations.
Gaby: Warm 14K gold and diamonds are designed into flirty delicate pieces that are both casual and chic. The collection includes hints of sapphires and gold links to create feminine and modern jewelry which can be worn to the grocery store, the office and to an elegant cocktail hour.
"We really wanted to design collections that women could live in," states Designer, Dominick Gabriel. "Whether it's a cocktail ring or your wedding ring, Gabriel & Co. believes that everyday is a special occasion for a woman to wear her best jewelry and we carefully created each piece to reflect a lifetime's worth of lifestyles."
About Gabriel & Co.:
Gabriel & Co. is proud to celebrate 25 years in making hand crafted fine jewelry with timeless designs and unparalleled quality. Founded in 1989 in Manhattan by brothers Jack and Dominick Gabriel, the aptly named Gabriel & Co. has grown into a world-renowned brand amongst consumers and within the fine jewelry industry. Gabriel & Co. is consistently voted the most preferred brand by both JCK Magazine's Retailer Survey and INSTORE magazine's annual Big Survey. For more information, visit http://www.GabrielNY.com.
###