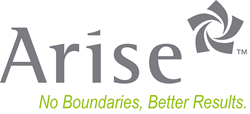 "Our employees are our most important asset and will continue to be one of the biggest drivers in Arise's continued growth and success." Emily Hofer
Miramar, FL (PRWEB) December 15, 2015
Arise Virtual Solutions Inc., one of the world's leading platforms for outsourced customer experience management, has been honored with the 2015 Best Place to Work Award by Best in Biz Awards. The award recognizes US and Canadian companies that demonstrate high employee satisfaction, innovative employee wellness programs including flexible work arrangements, financial and lifestyle benefits, as determined by press and industry analysts.
"Getting recognized once again as a best place to work is an incredible honor and a testament to Arise's culture that fosters an environment where employees feel motivated, valued, and committed to driving unparalleled results for our customers," said Emily Hofer, Vice President and Chief Human Resources Officer of Arise Virtual Solutions. "Our employees are our most important asset and will continue to be one of the biggest drivers in Arise's continued growth and success."
The 5th annual Best in Biz Awards program in North America boasted the highest number of submissions to date. More than 600 entries were received this year, from a wide array of public and private companies of all sizes and from a variety of industries and geographic regions. Winners were determined based on scoring from an independent panel of 46 judges from highly recognized newspapers, business, consumer and technology publications, radio outlets, and analyst firms.
"We are excited and honored to be named as a Best Place to Work in North America by Best In Biz Awards," said John A. Meyer, CEO of Arise Virtual Solutions Inc. "We have such a dynamic and talented group of employees that help make Arise a success, and we will continue to provide a supportive working environment and pathways for personal and professional growth."
For a full list of gold, silver and bronze winners in Best in Biz Awards 2015, visit: http://www.bestinbizawards.com/2015-winners.
About Arise Virtual Solutions:
Arise Virtual Solutions is changing the way companies think about call center services. Arise provides a virtual platform to connect primarily work-at-home service professionals running small call center businesses to Fortune 500 and other large companies. For over a decade, Arise's platform has enabled superior and extremely flexible customer contact, business processing and consulting solutions for numerous companies around the globe, uniquely blending crowdsourcing innovation, virtual technology and operational efficiencies to deliver an enhanced customer experience for a company's customers.
To learn more about No Boundaries, Better Results™ and how Arise Virtual Solutions can help you, please visit http://www.arise.com
Contact:
Doug Vinson, Vice President, Chief Marketing Officer | Arise
Marketing(at)arise(dot)com
855-274-7301
About Best in Biz Awards
Best in Biz Awards recognizes top companies, teams, executives and products for their business success as judged by established members of the press and industry analysts. Best in Biz Awards honors are conferred in two separate programs annually: North America, and International. Entries will begin to be accepted in the fourth annual Best in Biz Awards International program in January 2016. Any organization worldwide may enter any of the more than 60 company, department or team, executive and product categories. For more information about the entry process and categories in the International program, please visit: http://intl.bestinbizawards.com.