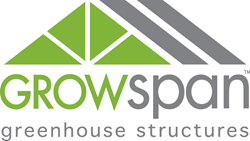 It will be easier to find and understand our greenhouse and growing structures, there will be more focused catalogues and consistent branding on our websites, said Director of Marketing Dinis Jablonski
SOUTH WINDSOR, Conn. (PRWEB) January 05, 2016
Growers Supply, a part of the ESAPCO family with nearly 40 years of experience and over 14,000 greenhouse structures in the field, announced today the launch of GrowSpan, a new brand name for their line of manufactured greenhouse structures. The new GrowSpan name and logo is a move to better position the Growers Supply greenhouse structures product line under a single identity, and it will connect all the greenhouse structures, new and old, through a cohesive visual presentation.
The new identity reinforces the company's manufacturing heritage and new product development efforts, and, in addition, GrowSpan will improve the customer experience.
"The advantages for our customers are clear," said Director of Marketing Dinis Jablonski. "It will be easier to find and understand our greenhouse and growing structures, there will be more focused catalogues, consistent branding on our websites and we are going to invest more in our greenhouse product management. Customers will be able to find all of our greenhouse structures under one name, eliminating any possible confusion. We are creating one face to the world, with even more focus on our growing customers and the development of new greenhouse structures and accessories. It's exactly where our focus needs to be."
The new brand identity utilizes elements from existing ESAPCO companies, Growers Supply and ClearSpan. These companies will continue to remain as the trusted foundation and provide innovative and custom greenhouse structures under GrowSpan.
GrowSpan and Growers Supply cherish the role their greenhouses structures and growing accessories play in customers' lives and look forward to continuing this tradition of excellence for decades to come.
Contact Growers Supply at 1.800.476.9715 or online at http://www.growerssupply.com/growspan.
Growers Supply is the leading manufacturer of greenhouses, high tunnels and controlled environment agriculture systems, offering design-build solutions for the horticulture industry. With a catalog of over 30,000 products, complete growing systems can be custom designed to fit the needs of any business. Corporate headquarters are located in South Windsor, Conn., and supports a campus for manufacturing and distribution in Dyersville, Iowa.