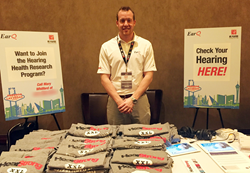 ...hearing loss, whether noise-induced or the result of a hit, can have life-altering mental and physical consequences if left untreated. --Ed Keller, president of EarQ
Las Vegas, NV (PRWEB) December 15, 2015
After receiving significant player participation at the 2015 NFL Players Association's (NFLPA) Conference in March and regional meetings in Chicago and New Orleans, EarQ and the Professional Athletes Foundation (PAF) brought their expanding hearing health research program to the Las Vegas chapter of the NFLPA.
On December 11 and 12, representatives of EarQ continued to research the correlation between hearing loss and former professional football players by providing, with representatives of Hearing Associates of Las Vegas, hearing health screenings and customized EarQ hearing solutions for participating NFLPA members.
All testing data acquired will help EarQ and the NFLPA more accurately identify the connection, prevalence, and extent of hearing loss throughout the player population and help ensure larger steps can be taken now and in the future to help enrich the lives of NFLPA members.
Upcoming research will be gathered from events throughout 2016.
"It's no secret that professional athletes, particularly football players, put their bodies at a greater risk of injury than the average person, but not all injuries are created equally," said Ed Keller, president of EarQ. "Though not often talked about, hearing loss, whether noise-induced or the result of a hit, can have life-altering mental and physical consequences if left untreated. Through testing events like this, we and the PAF are able to get a more realistic picture of how hearing loss is affecting these former players and identify ways to help improve their quality of life."
About EarQ:
A prestigious nationwide network of independent hearing healthcare providers, EarQ utilizes innovative business and marketing practices as well as national public awareness efforts to advocate for excellence in the industry and in patient care. Through its 1,400 hearing healthcare provider locations nationwide, EarQ helps provide greater access to quality hearing healthcare services and products.
http://www.earq.com
Like us on Facebook
Follow us on Twitter
About the NFL Players Association
The National Football League Players Association (NFLPA) is a non-profit, professional sports union that protects the best interests and welfare of all NFL players. It serves as the exclusive bargaining agent for all NFL players in collective bargaining. Established in 1956, the NFLPA has a long history of assuring proper recognition and representation of players' interests. The NFLPA is governed by a Board of Player Representatives, acting in accordance with the NFLPA Constitution and federal labor laws. The NFLPA's responsibilities include: Representing all players in matters concerning wages, hours and working conditions and protecting their rights as professional football players; ensuring that the terms of the Collective Bargaining Agreement are met; negotiating and monitoring retirement and insurance benefits; providing other member services and activities; providing assistance to charitable and community organizations; enhancing and defending the image of players and their profession, on and off the field. For more information, visit http://www.NFLPlayers.com.