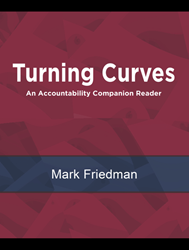 A treasure trove of useful insights. An essential volume for anyone working to implement government or nonprofit accountability at any level.
Santa Fe, New Mexico (PRWEB) December 21, 2015
The Fiscal Policy Studies Institute and Results Leadership Group are pleased to announce the release of Mark Friedman's latest book, "Turning Curves: An Accountability Companion Reader" (Turning Curves). The book is now the #1 New Release in Public Affairs and Administration on Amazon.com.
Turning Curves is a companion reader for the book "Trying Hard Is Not Good Enough," (Trying Hard) recently released in its 10th anniversary edition. Trying Hard has sold almost 50,000 copies and is now used in countries around the world. It presents a data-driven decision making model known as Results-Based Accountability (RBA) or Outcomes-Based Accountability (OBA). The model provides a set of methods that can help government and nonprofit agencies produce measurable improvements for customers and the communities in which they work. It replaces a whole bookshelf of jargon laden and burdensome planning frameworks. The London Guardian called it "Simple, Common Sense, Jargon free."
In Turning Curves, Mark shares some of his writing from the last 10 years, and selected writings from colleagues around the world who are putting RBA/OBA into practice. It's a combination of success stories and practical advice, with a few controversial discussions on topics like teacher evaluation and social impact bonds.
Phil Lee, President of Results Leadership Group calls it, "A treasure trove of useful insights. An essential volume for anyone working to implement government or nonprofit accountability at any level."
"Trying Hard is Not Good Enough" is the book I always return to when the going gets tough. I value its simplicity, clarity of purpose and its impact on improving outcomes. This newest book is a great addition," says Nigel Richardson, Director of Children's Services for the City of Leeds, England.
"Overall, this is a great book! I learned a lot more about RBA. There is so much variety that everyone will find something interesting and useful," shares Kayleigh Weaver, Communications Manager at Results Leadership Group.
The reader is made up of more than 80 essays including:
The Vermont Accountability Compact
The Leeds Story by Nigel Richardson
How outcomes saved my life by Mike Pinnock
The simplest way to implement RBA
Using data for improvement not punishment
How to measure the success of community level strategies
Creating Collective Impact using RBA
How to build a performance foundation in your organization
The problem with pay for performance in government
The right and wrong ways to measure the performance of teachers
Next Generation Contracting for funders and grantees
When infrastructure is the customer
Results based budgeting and least harm budget cuts
The performance of Administrative services, Arts organizations, Advocacy organizations, Partnerships............and much more
The book is available on Amazon.com and, at a lower rate, on the Results Leadership Group website.
For more information, you can contact Mark Friedman at markatfpsi@gmail.com.