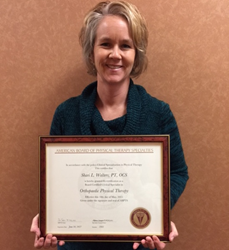 SOMERSET, Wisc. (PRWEB) December 21, 2015
The American Board of Physical Therapy Specialists (ABPTS) congratulates Shari Walters PT, OCS of OSI Physical Therapy in Somerset, WI, for recertification as a Board Certified Clinical Specialist in Orthopaedic Physical Therapy. Walters has been certified as a Clinical Specialist in Orthopaedics since 1997. Recertification is required every 10 years and in 2015 she has successfully completed the recertification process. Candidates who are eligible for recertification must hold a current specialist certification from the (ABPTS), a current physical therapy license, and meet recertification requirements that demonstrate competency in the specialty area through submission of a professional development portfolio or retaking a written examination.
The American Physical Therapy Association (APTA) established specialist certification as a mechanism to formally recognize physical therapists who have demonstrated advanced clinical knowledge and skills in a specialty area. Since the certification process began in 1985, 18,071 physical therapists have achieved board certification and 577 physical therapists have been awarded recertification in 2015 as board certified clinical specialists.
ABPTS will recognize 2015 recertified specialists during the awards ceremony on February 17, 2016 at the APTA Combined Sections Meeting in Anaheim, California.
Walters is a senior physical therapist, manager, and shareholder of OSI Physical Therapy currently working at the Somerset, WI location. OSI is an outpatient physical therapy clinic specializing in orthopaedic physical therapy and sports medicine.
About OSI Physical Therapy and the Training Room: OSI offers a full range of Physical therapy services to treat all types of injuries from back pain, to knee, ankle or foot pain, and more. OSI licensed physical therapists and occupational therapists, are known for their expertise in sports-specific rehabilitation activities and sport-specific training programs. Doctor referrals are not required to see a specialist from OSI Physical Therapy or the Training Room and most insurance is accepted. The Training Room fitness memberships are open to the general public at our Somerset location.
Visit us at http://www.osipt.com | @ositherapy
SOURCE: OSI Physical Therapy
For further information: T.J. McLeod, tmcleod@osipt.com