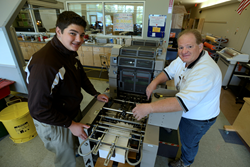 HERSHEY, Pa. (PRWEB) December 14, 2015
Michael DeAcosta, graphic arts teacher at Milton Hershey School®, has been selected as the 2015 academic recipient of the Printing Industries of America Education Awards for Excellence.
"Mr. DeAcsota puts his passion for his craft and his commitment to the school's mission into each lesson he teaches," said Milton Hershey School President Peter Gurt '85. "He has many years of experience in the industry, but what is most important is how much he cares about and invests in our students' success. He is able to connect with students which helps them to thrive in his class and other school programs."
The annual award honors one outstanding educator who is working to preserve the future of the printing industry.
"It's very humbling to be a part of the program they chose to recognize," said DeAcosta. "I was really excited to get the call, and the best part was that it came during one of my classes. The students overheard and when I hung up, they all clapped for me. I'm always striving to do my best for my students. They inspire me, and this award is really about them."
Milton Hershey School's Career/Technical Education program gives students a competitive edge because it allows them to focus on one of 11 career pathways, preparing them for postsecondary education and a career.
"What I love most about my job is knowing that I am truly preparing my students for a career in the print industry," said DeAcosta. "Career-technical education is important because employers today are looking for a combination of knowledge and skill. Mr. and Mrs. Hershey recognized this in 1909 and purposefully included education in the trades as part of the school's original curriculum. That formula is still successful today, as we prepare students to lead fulfilling and productive lives."
This is the second national recognition the Graphic Communication Technologies program has received. In 2013, it was honored with the Frederick D. Kagy Education Award of Excellence by the Printing Industries of America.
Learn more about Milton Hershey School and its academic programs at mhskids.org.
ABOUT MILTON HERSHEY SCHOOL
Milton Hershey School® is one of the world's best private schools, offering a top-notch education and positive home life to children in pre-kindergarten through 12th grade from families of lower income at no charge.